ABC History, from 1909 until today...
TO MOST PEOPLE, A.B.C. will conjure up a picture of the local cinema, a child's alphabet book, or a rail guide. To those interested in Veteran and Vintage vehicles the choice might be a motor cycle with laminated spring frame, a light car, and the tiny Skootamota. In fact, the range of products was somewhat larger.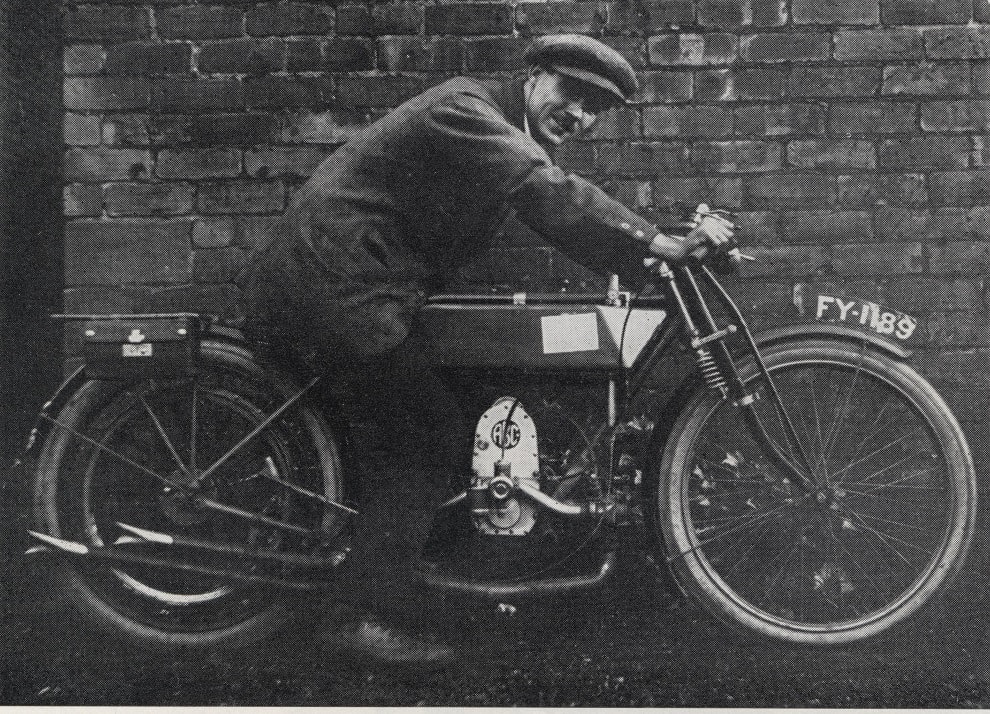 A.B.C.-engined motorcycle with Jack Falshee, 1913

From about the turn of the century, a small workshop (Redbridge Motor Works) in Redbridge, near Southampton, under the name of Walter. Lawson Adams - motor engineer, designed and installed engines for small motor boats and hydroplanes. A 10-12 h.p. engine installed in a boat named `Bluebottle" in 1904, won its class in some reliability trials in 1905 in the Southampton area whilst a 15hp V-twin was fitted to a hydroplane in 1909. By that time he had become more interested in aircraft engines and, to pursue such interests, he first formed W L Adams Ltd and then joined forces with Ronald Louis Charteris forming the Aeroplane Engine Company in 1909. Charteris was the grandson of the 7th Earl of Wemyss and March and a keen early aviator. Together with Adams, they commenced work on a 90-degree V8 engine of 88hp having a bore and stroke of 4 in. x 43/4 in. There is however no evidence that it was ever completed.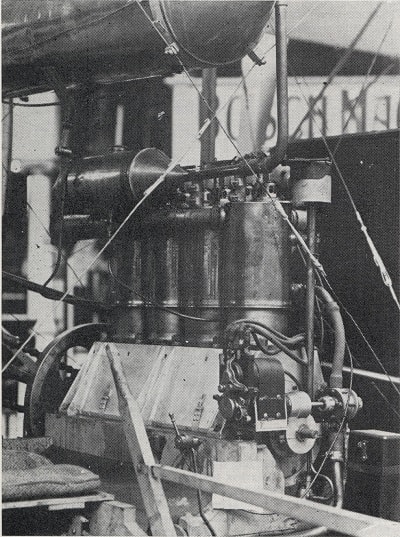 The first A.B.C. engine designed by Bradshaw. Water-cooled four. - Courtesy of Flight
In the latter part of 1910, Granville Eastwood Bradshaw joined the company as chief designer. Designs then came from both Adams and Bradshaw for the Aeroplane Engine Company's aviation units, whilst Bradshaw also pursued technical development of aircraft design. The company name was again changed since all partners were probably aware of cash rewards being offered to constructors of aircraft of all-British manufacture, so Bradshaw suggested the All British Engine Company. At this time Bradshaw was a recently qualified engineer, being just 21 years old. Granville Bradshaw apparently worked for the Star Engineering Co. for a short while during 1908-10, during which time he designed the Star monoplane and biplane, and also a 40 h.p. water-cooled four-cylinder engine which was installed and flown in the monoplane in 1910. This engine sounds very similar to the first A.B.C. engine, and Bradshaw could well have memorised the design and added one or two improvements for production by the latter company. His first design for A.B.C. was a 40 h.p. water-cooled four-cylinder engine, followed by a number of 90-degree V-arranged engines of four, six, eight, 12, and 16 cylinders. The majority of these were produced solely on the drawing board, although they did appear in catalogues, but at least the 40 h.p. and V-8s of 60 h.p. and 100 h.p. were made in small numbers, the latter by Armstrong-Whitworth & Company.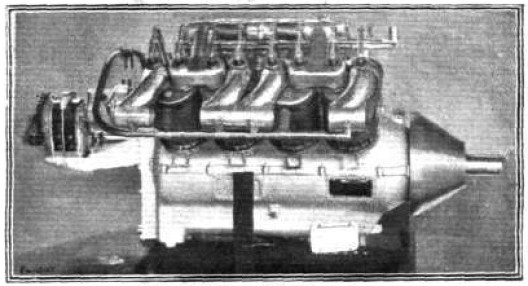 1911 A.B.C. 80hp engine - Courtesy of Flight
Redbridge, it was decided, was too far from the aircraft builders and pilots; so to test their products an old chassis was acquired, stripped of its engine, gearbox, and transmission, and the body was discarded. On to this bare frame a timber body, of sorts, was built with a forward-facing bench-seat in front, and two seats facing backwards, one over each of the rear wheels.
Their own aero engine was placed in a framework, together with petrol and water tanks, above the rear of the chassis, and in this form it was driven from Redbridge to Brooklands, generally under the cover of darkness. At the track it was said to do 65 m.p.h. with four passengers and a dog, and was used mainly during 1911-12, finishing its days overgrown by weeds behind the Hersham factory before being broken up.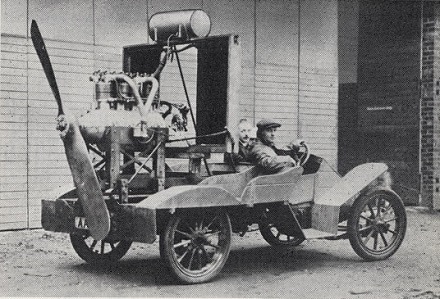 The "Wind-Bus", used between Redbridge and Brooklands to test engines and propellers. - Courtesy of Flight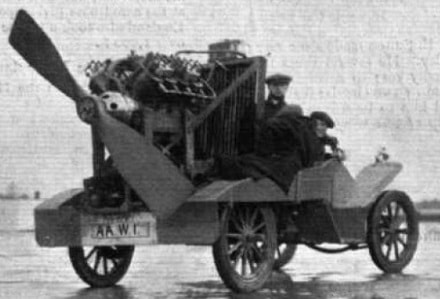 "Wind-Bus" at Brooklands in May 1911 fitted with 80hp 8 cylinder A.B.C. engine. Mr.Charteris is in the driving seat - Courtesy of Flight
Probably the first aircraft to be fitted with an A.B.C. engine was T. O. M. Sopwith's (now Sir Thomas Sopwith) Burgess-Wright biplane which he bought whilst in America. With this and two other aircraft he started a flying school at Brooklands in 1911. During 1912 Harry Hawker joined him, having just arrived from Australia, and later that year he succeeded in gaining the British duration record, flying for 8 hours 23 minutes.

By the latter part of 1912 the All British Engine Company was generally being referred to as ABC (the Engine part of the title was subsequently printed in brackets) and by this time W L Adams had left as he must have found working with Bradshaw something of a prickly experience, taking with him the V-8 aero engine design subsequently developed by W H Dorman & Co Ltd of Stafford. Redbridge was closed during 1911 and reverted to the name W. L. Adams - engineer whilst the ABC Company was moved to Brooklands.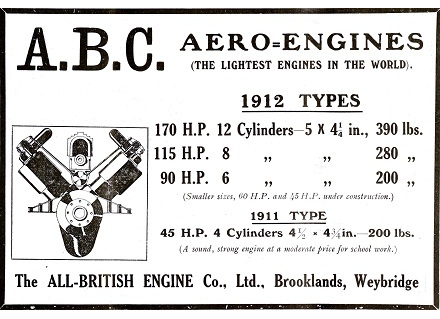 1912 All-British Engine Co. Advert showing Brooklands as the main address - Courtesy of Roger Bird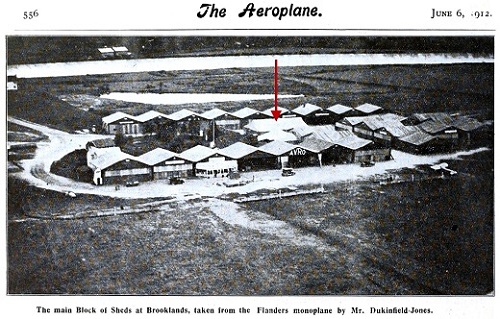 1912 A.B.C. brick building at Brooklands, at the junction of Birdcage Walk and Swallow Walk. - Courtesy of Roger Bird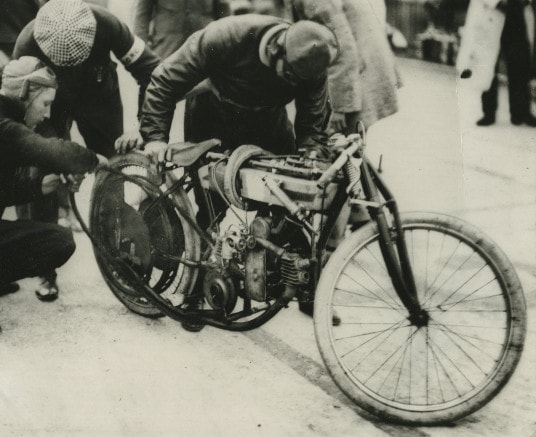 Saturday 14 September 1912, S.L.Bailey on a 2.75hp Douglas sv at Brooklands. Won 150 mile Junior TT at 52.91mph - Courtesy of Brooklands Museum

In late 1912 S. L. Bailey, who rode Douglas motor cycles at Brooklands, asked Bradshaw to design various parts to improve the performance of one of his bikes. These included machined cylinders, new con-rods, and new valves, tappets and rocker gear. In this form it proceeded to take the Class B (350 c.c.) kilometre and mile records at 72.63 m.p.h. and 70.04 m.p.h. respectively, beating the 68.28 m.p.h. and 67.85 m.p.h. previously set up on the Martin-J.A.P. The fact that Bailey had asked for revised motor cycle parts probably sparked off in Bradshaw's mind the idea of the A.B.C. motor cycle, and by January, 1913, a 500 c.c. opposed-twin engine had been designed and built, which, it was claimed, would fit most frames. In an article in Motor Cycling for 14th January 1913 describing this engine, it was also mentioned that there could be a 900cc flat twin suitable for a cyclecar, not that the company had any serious intention of making one themselves, rather that it might be an opportunity to supply it as a proprietary unit to others.
This motorcycle engine had a bore and stroke of 68 mm. x 68 mm. and employed a three-throw crank, with one large con-rod centrally, and a lighter section con-rod either side to the second cylinder, thus obtaining very good balance. The cylinder barrels were machined from a solid bar and together with the con-rods, pistons and overhead valve gear were all based on aero-engine practice, The fin arrangement on the cylinders was described as "pear shaped", which were finished in nickel plate left dull. A certain amount of adjustment was required to the majority of frames, so Zenith Motors and H. Collier & Sons were asked to design a suitable frame around the engine. The second prototype engine incorporated pressure-feed lubrication instead of splash, normal working pressure being about 50 lb./sq. in. at a speed of 4,200 r.p.m. In April, the A.B.C.-Zenith appeared at the track, in the hands of F. W. Barnes, although after this date little is heard of either the Zenith or Matchless-framed machines. The first production engines, which were available in June, in some cases found their way into Douglas frames, as these obviously lent themselves to the design of the A.B.C. unit.
Various modifications were made to the engine during May, including revised valve gear, and the pear-shaped fins becoming longitudinally disposed. These engines were used in some of the T.T. machines that year, one being George Brough's, his own engine not being finished in time. Other motor cycles to use the A.B.C. unit included the Edmund and the coil-spring-framed P.V. (Perry Vale, London), one of the latter gaining a gold medal in the 1913 London-Exeter Run. It became clear that the motorcycle engine only fitted very few frames and this likely prompted ABC to start building complete motorcycles themselves from 1914.

On January 13, 1914, Jack Emerson, the company's chief tester, broke the Class C and D flying kilometre and mile records, previously held by Stanley on a Singer at 78.22 m.p.h. and 76.69 m.p.h., the new speeds being 80.47 m.p.h. and 78.26 m.p.h. respectively. For this attempt the bore was increased by less than half a millimetre, the rocker gear lightened, and a streamlined tail was added, consisting of aeroplane canvas stretched over a timber frame and attached to the rear of the saddle.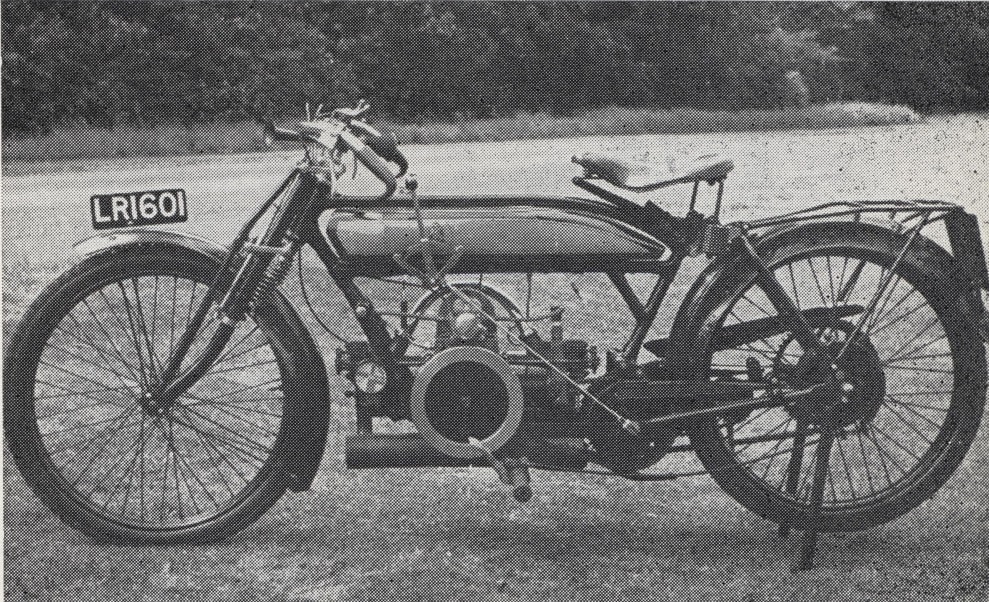 Early 1914 motorcycle with three speed Armstrong gear, but no kick-starter - owned by Bob Thomas

In March, 1914, the new revised model was introduced, which differed in several major respects. A three-model policy was adopted, which consisted of the touring version with a guaranteed speed of 60 m.p.h., a T.T. model at 65 m.p.h., and the Brooklands model with a maximum of 70 m.p.h. The touring model had parallel-sided cylinders, with detachable heads incorporating separate exhaust-valve chambers, the valve arrangement changing from overhead to side inlet and overhead exhaust. A more normal two-throw crank was used, with ball and roller bearings, and a Best & Lloyd semi-automatic lubricator was added to the oiling system. In his record attempts, Emerson found that a certain amount of speed was lost due to the belt slipping on the rim, so 1914 models all had chain drive to the rear hub via a countershaft and three-speed Armstrong gear. The frame had for the first time a feature for which A.B.C. became renowned, namely the use of laminated springs fore and aft. On early production versions a kick starter and footboards were optional, whilst an undertray was standard to save mud and grit from liberally spraying the valve gear, as were twin exhaust pipes and silencers. The T.T. model retained the pear-shaped cylinders, as did the Brooklands model, which probably had lightened valve gear and drilled con-rods. About this time it was decided to give the motor cycle division of the works a separate title, so as not to be confused with the aero-engine side, and the name A.B.C. Road Motors (1914) came into being in June 1914. Not that much confusion could have taken place anyhow, since the number of employees at this time was about 20, which in turn was about double the number at Redbridge back in 1911.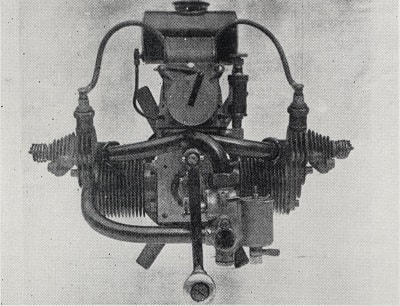 First World War auxiliary engine of 250cc, 1915
These bikes were sold in some numbers, and soon appeared in sporting events, acquitting themselves quite reasonably, having a respectably high performance and vivid acceleration. In the Scottish Speed Championships, T. C. M. Bellairs won his heat and came third in the final on his machine nicknamed the "Pirate", and at the Oxford v. Cambridge Brooklands meeting in September, E. H. Lees won the first and third races. With successful competition and the usual and enthusiastic Press coverage, A.B.C. had to think of moving to larger premises to fulfil all their orders, and agreed to purchase the old Faulkner's Foundry site in Hersham near Walton-on-Thames. However, this site was required sooner than expected since Brooklands was taken over as a military flying ground in August, 1914, and A.B.C.s lost all their workshops and equipment into the bargain. Once installed in the new and hurriedly constructed factory, the company were asked by the Government to concentrate on experimental work in the aero-engine field, and in particular on an electrically-controlled aerial torpedo.
Being a reservist, Ronald Charteris was called up into the Royal Flying Corps with the rank of Lieutenant and was absent from much of the company business for several months. By the time he was able to return in 1915 to a company making auxiliary engines for War Office contracts, he had the title of Captain.
Before any aero engines were designed, Bradshaw announced the modifications to the 1915 model motor cycle. Towards the end of 1914, a Montgomery sidecar outfit was attached to the bike, but with the additional weight the gear ratios proved rather unsuitable, and partly because of this Bradshaw set about not only revising the ratios, but completely redesigning the gear. The result of these deliberations was incorporated into the 1915 model, and consisted of a car-type gear-box in phosphor bronze, with four speeds (4 1/2, 6 1/4, 10, and 16 : 1), operated by a lever in a gate fixed to the tank. Other changes included an internal cone clutch faced with Raybestos, the outer steel member having teeth cut on it for the engine driving chain, and chain final drive was switched from the off-side to the near-side. Springing was modified and adjustable handlebars were fitted. During this time the standard colour scheme had always been battleship grey and black, although if a customer wanted a specific colour, then, as in many other establishments, a new standard colour could be arranged even if it cost a few shillings extra. Due to hostilities, the number of bikes produced began to fall, and those that were delivered went mainly overseas to India, Australia, Italy, or South Africa for competition work, or to France or Egypt for use in the services. The last bikes of this type were made in 1916, and had enclosed kick starters, double cush drive (a type of transmission shock absorber) and twin rear brakes operated from the handlebars and by a foot pedal. Notable performances overseas included the Morcam brothers in South Africa in events organised by the Maritzburg Motor Cycle Club, winning several cups and certificates for first and second places in speed trials and hill climbs.
Even as early as the making of aircraft engines it soon became obvious that the tiny ABC concern did not have the manufacturing capability to produce complete engines, so other companies had to be engaged to supply either castings, parts or even complete units, and Armstrong Whitworth certainly were amongst the early companies used to produce the V-8 aero engines. The same applied to the 500cc motorcycles, the Great War auxiliary engines, the Gilbert Campling built Skootamota and subsequently the post-war Sopwith built 398cc motorcycle.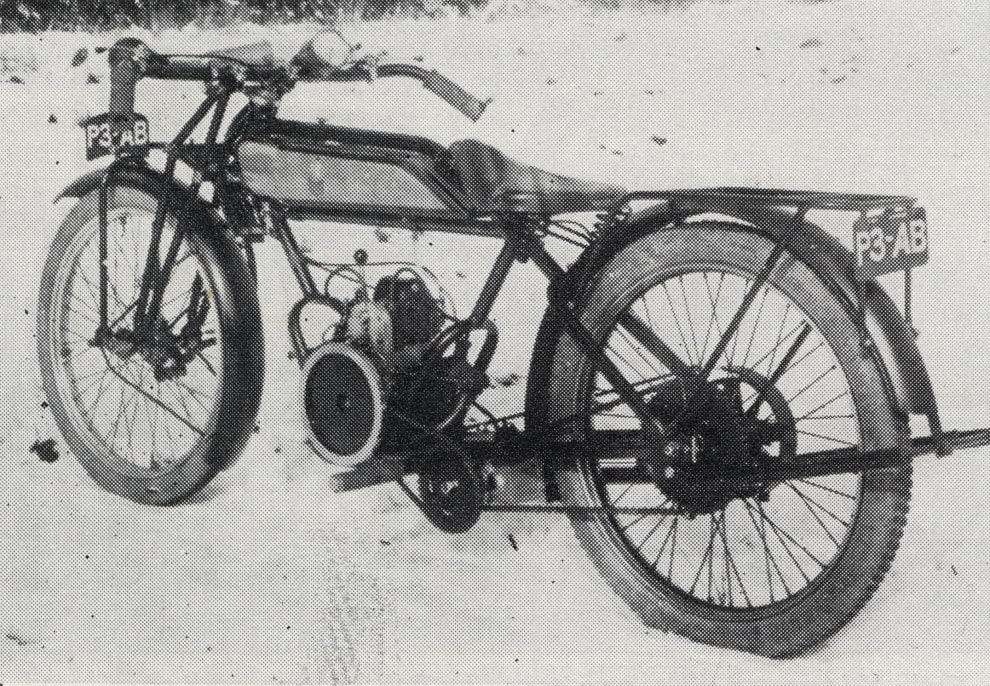 Experimental 250cc motorcycle,1916, with two speed Albion gear
The war effort saw the start of code names for the various types of engines, the first of these being the "Firefly", a 250 c.c. horizontally-opposed twin on the same lines as the motor cycle. Designed as an auxiliary engine, it was used for supplying power to portable wireless sets and searchlights via a dynamo, for pumping water out of the trenches and, with a sirocco fan fitted, for inflating airships with air. A few were used experimentally with a four-bladed propeller to synchronise the firing of bullets through the prop. The intended running speed was between 3,000 and 4,000 r.p.m., but again, as an experiment, one was tested with its fan still in place to find out what the maximum speed was. This was left in the test shop for two or three hours at full throttle, and on returning the indicated speed was 10,000 r.p.m., apparently causing no harm to the engine. However, the sirocco fan had disappeared, making for itself a large hole in the roof. By March, 1916, one of these units had found its way into a motor cycle frame and, using a two-speed Albion gear, was capable of 37 and 48 m.p.h., although it was stated that this could be bettered by designing more suitable camshaft and frame. Production would be started after the war.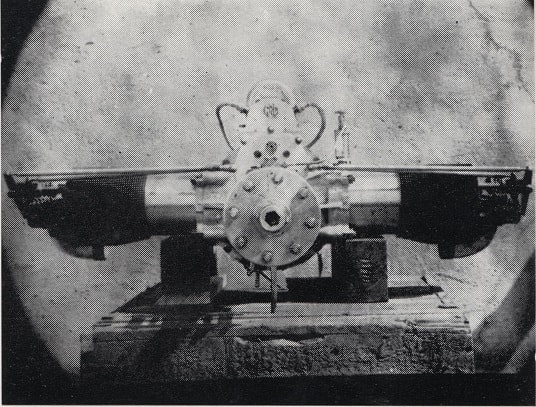 A.B.C. "Gnat" engine, 1916
The next engine off the drawing-board was the "Gnat", again a horizontally-opposed twin, this time of just over three litres capacity, developing 45 h.p. at 1,800 r.p.m. This was installed in the Sopwith Sparrow, and with radio control gear was taken to Laffan's Plain, near Farnborough. The order was given to start the engine, and the radio control panel, the work of Professor Lowe, was checked to make sure the desired signals were reaching the aircraft. All the military bigwigs stood waiting for the word to go, and expecting great things of what would prove a very useful weapon. The time came for the first flight, and the Sparrow started gaining speed across the grass. Fortunately, on this test run, the designed load of bombs was not being carried, the signals taking far too long to reach the craft. Frantic turning of controls merely sent the plane careering all over the place, generally in the direction of the portliest of the assembled bigwigs, and the machine eventually came to rest after running out of its gallon of fuel. Apart from this occasion, little was heard of the "Gnat" for the remainder of the hostilities.
Two unsuccessful designs followed the "Gnat". Firstly, Jack Emerson tried converting his motor cycle to run on paraffin, and secondly Harry Hawker bet Bradshaw that he could not design a radial aero engine with an even number of cylinders. Bradshaw took up the challenge, and using six Gnat cylinders on a common crankcase, brought about the "Mosquito", which not only had an even number of cylinders, but fired 1, 2, 3, 4, 5, 6. It did, however, prove unsatisfactory for production purposes.
Next in the story come two ill-fated aero engines. The seven-cylinder radial "Wasp", with bore and stroke of 4 3/4 in. x 6 1/4 in. and rated at 160 h.p., was developed for fighter aircraft. Prototypes made from Bradshaw's designs by the Selsdon Engineering Co. Ltd. were fitted to Sopwith Snail, Salamander and Snipe aircraft, the latter with full fighting equipment achieving a maximum speed of 156 m.p.h. and climbing to 10,000 ft. in 4 1/2 min. In practice, although attaining a high degree of manoeuvrability, they proved somewhat under-powered, and an engine in excess of 300 h.p. was asked for. This request caused the "Dragonfly" to be built, a nine-cylinder of 320 h.p., the first of these being constructed by Guy Motors in 24 days. This was in February, 1918, and 14 more were made and put through preliminary tests in aircraft. At this time the Government were considering the best engine to put into mass production for the 1919 war programme, and having boobed previously by not including engines in the design or test stage, they did not wish to make the same mistake again. With this in mind, and the A.B.C. engine only just off the drawing board, they took some time in making their decision. The "Dragonfly" certainly looked the best on paper, so the final result was that over 11,000 were ordered. By the time the Armistice had been signed, only 14 were installed in aircraft, and over 1,000 engine units had been finished. Thirteen companies, listed below, had been involved with "Dragonfly" and, of the aircraft tested, the majority decision was that it was an unreliable engine. For this, Bradshaw claimed that certain alterations to the specification had been made by some of the manufacturers:
| | | |
| --- | --- | --- |
| Beardmore Aero Engines Ltd | 1,500 | engines |
| Crossley Motors Ltd/ | 1,000 | " |
| Ransome, Sims & Jeffries | 500 | " |
| F. W. Berwick & Co. Ltd. | 1,000 | " |
| Belsize Motors Ltd. | 1,000 | " |
| Maudslay Eng. Co. Ltd. | 500 | " |
| Vulcan Motor & Eng. Co. Ltd. | 600 | " |
| Vickers Ltd. | 1,000 | " |
| Sheffield Simplex | 500 | " |
| Guy Motors | 600 | " |
| Clyno Eng. Co. | 500 | " |
| Ruston, Proctor & Co. Ltd. | 1,500 | " |
| Humber Ltd. | 850 | " |
| | 11,050 | " |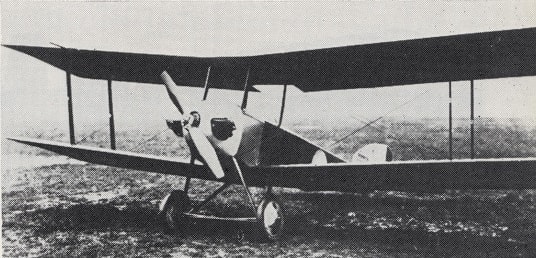 Radio-controlled Sopwith "Sparrow", with "Gnat" engine, Laffan's Plain, 1916. - Courtesy of Imperial War Museum
Production engines were heavier than the initial design, developing less power and vibrating badly. When flown, the aircraft were usually dogged by mechanical failure within a few hours. Even after revised pistons and cylinder heads had been designed and fitted by Prof. A. E. Gibson and S. D. Heron of the Royal Aircraft Establishment, the engine suffered from imbalance and synchronous torsional vibration, and to overcome this a complete redesign of the engine would have been necessary. When orders were cancelled, 1,147 engines had been made, of which 23 had been delivered up to the end of 1918, although production continued into 1919.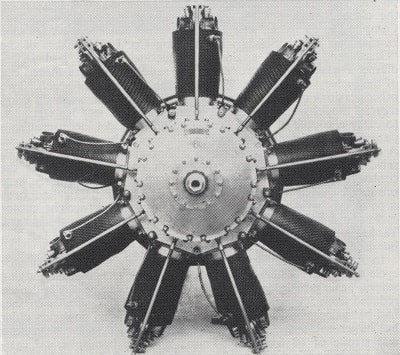 A.B.C. "Dragonfly engine, 1918
Aero engines was not the only aspect occupying Bradshaw's mind during the war. As far back as 1913, when the 500c.c. motor cycle engine was introduced, it was stated that a similar but larger version would be made for cycle car work. That year a capacity 900 c.c. was envisaged, and a combined fan-cum-flywheel would be used so that the complete power unit could be enclosed. In 1917 the engine grew to 1,094 c.c., a suitable gearbox had been designed, and so had an A.B.C. carburettor as described in April 1917 in an article on Motor Cycling and Light Car in June of the same year. By 1918 the transmission was said to be by friction discs, with final drive by chains (supposedly based on an American system) and quarter elliptic springs all round. A price of 100 guineas was mentioned. In 1919 the whole thing grew up to become the light car, of which more anon.
Before the war Bradshaw's most successful engines had been the horizontally-opposed twins. From 1917 onwards, the tendency was to concentrate on radials, so it is not altogether surprising to find him, like A. W. Reeves of Enfield-Allday, designing a radialengined car. This was to have had a five-cylinder engine mounted in a cowling similar to an aircraft, driving through a four-speed epicyclic gearbox incorporated in the flywheel, to a hinged rear axle with transverse quarter-elliptic springs as used on Sopwith aircraft.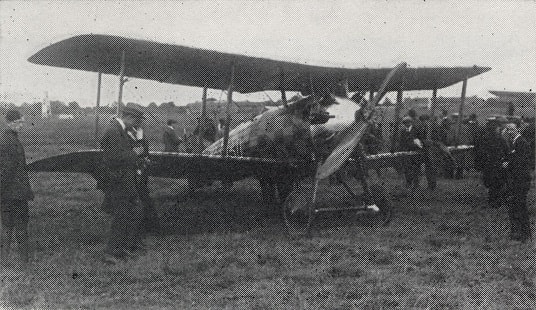 Nieuport L.C.1 with "Dragonfly" engine, 1919. Bradshaw is facing camera at right. - Courtesy of Flight
Each half of the axle to have its own crown wheel, which would be driven by a communal bevel-ended prop shaft. Cone brakes were to be fitted, and the whole lot would be mounted in a tubular-framed chassis. To facilitate easier maintenance, the engine would be turned through 72 degrees to service each cylinder, and it was suggested that cheap stamped parts be used, which would be replaced fairly frequently, instead of maintaining an initially expensive item. Had other war-time developments been more successful, this novel 100 h.p. sports car might have reached the prototype stage, but as it was the design was shelved as an A.B.C. white elephant.
Meanwhile, it seems that an ABC subsidiary company, Walton Motors Ltd, formed in 1917 to concentrate on government contracts for aero engines, was instrumental in obtaining various parcels of land and premises close to their Hersham works, not least in August 1918 acquiring Hersham Lodge on Molesey Road, a mid-19th century mansion with seven acres of grounds and parkland suitable for converting to quite opulent offices with the possibility of building a large factory opposite the existing works off the Old Esher Road, Hersham.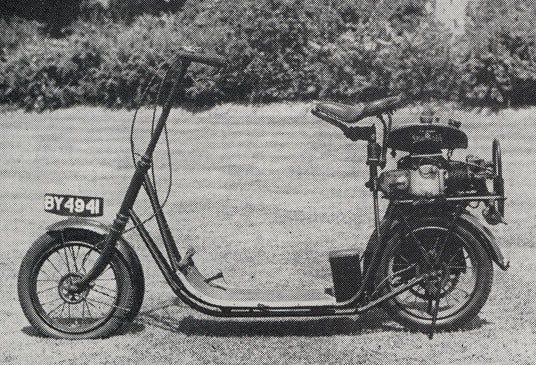 1919 Skootamota on exhibition at the National Motor Museum, Beaulieu.
After the war, the first new machine to appear was the Skootamota, which did so very rapidly. This was based on the 250 c.c. "Firefly" auxiliary engine, which had been tested in a frame. It was to be manufactured as a light runabout and, as such, a single-cylinder one-speed machine was thought the most desirable contrivance. The bore and stroke was 60 mm. x 44 mm., giving a capacity of 125 c.c. The prototype had 14 in.-diameter wheels with 2 1/4 in. tyres, long handlebars with exhaust-valve lifter on the left, and Bowden lever to operate the contracting band brake on the front wheel on the right, together with a push-button accelerator. A tubular frame was used, having a platform-type of footboard, through which a pedal projected which operated the rear shoe brake. A rather primitive, and probably uncomfortable, shooting-stick seat was provided, whilst the power unit sat over the rear wheel. This had the magneto opposed to the single cylinder, so at least it looked vaguely like a twin, and a fuel tank over the engine which contained about half a gallon of petrol and a small segment for oil. Starting was by the not unfamiliar push-and-jumpon variety, whilst the accelerator was governed to 2-3 m.p.h. in the closed position. This machine was to be made by Gilbert Campling in Croydon, who had up to this time occupied his time as manager of the Selsdon Engineering Co. Ltd., makers of the "Gnat" and "Wasp" engines. Production versions had 16 in.-diameter wheels and a proper sprung saddle, and were turned out of the factory during July, 1919, at a cost of about £40 each. Two other versions of this scooter appeared shortly afterwards: a commercial model with wooden cupboard under the seat large enough to carry a couple of loaves, and a colonial model incorporating a parasol, probably meant to keep sahib cool rather than the engine. A sporting version was not made, although some did show themselves at sprints and speed trials with optimistic ladies at the controls. Probably something like 3,300 of these machines were produced during 1919 and 1920, by which time they had been superseded by post-war more conventional light-weight motor cycles, and with their competitors such as the Grigg, Hack and Tankette served their purpose as small runabouts. The last few hundred had both inlet and exhaust valves overhead.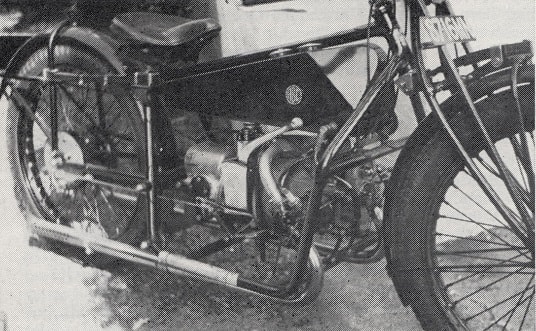 1920 398cc motorcycle, produced and exhibited under the Sopwith name, owned by Bob Thomas.
In June, 1918, Bradshaw registered the designs for a new motor cycle completely different to the 1916 model, although embodying several basic principles of the old design. The engine size had been reduced from 500 c.c. to 398 c.c., as it was said that smaller engines had been designed during the war to give as much power as older but larger engines. Steel cylinders were retained, but with a bore and stroke of 68.6 mm. x 54 mm., and the hemispherical cast-iron heads had inclined overhead valves operated by rocker arms and push rods. The two-throw crankshaft ran on ball bearings, whilst the big-ends ran on rollers. A gear-type oil pump fed oil from the sump through an oilway in the crankcase to the con-rods and big-ends, other parts being lubricated by oil mist. A four-speed gearbox similar to the old design was used, although the gate change became much sturdier, and a Ferodo-lined invertedcone clutch was incorporated within the flywheel. All these items were of unit construction, the crankcase being fixed to the duplex frame by four bolts, with the cylinders arranged transversely. The frame retained laminated springs, but was otherwise constructed to protect the power unit from being sprayed with mud and grit, as well as providing footboards and leg shields for the rider. The tank was reshaped in an angular form, tapering towards the back, and held just over two gallons of fuel. Chain drive was used with the old cush-drive, whilst internal expanding brakes were fitted to both wheels. About six prototypes were made, the first of which took 11 days to complete. This achievement won Bradshaw £1,000, as he had bet that it could be done in under 21 days, a payment of £100 per day being given. These six machines were used by Bradshaw and the other directors, particularly Captain Ronald Charteris, as well as Jack Emerson, who used them in the London-Edinburgh trial. The works' entries usually carried the registrations PA 447 and PA 448. Some difficulty was found in exporting motor cycles to France, and to overcome this they were made under licence by Gnome et Rhône just outside Paris. The French machine was supposed to differ in several respects, but the first one was merely the English prototype with French registration (22151-W-1). Later models did, however, have revised front stands, different kick starters, stiffer springing to cope with the bad roads, and Zenith carburettors. By September, 1920, other modifications included a cranked gear lever and the omitting of the side valances to the mudguards. From black-and-white photographs it would appear that the finish on the French machines remained the same as on the English prototypes, i.e., battleship grey and black.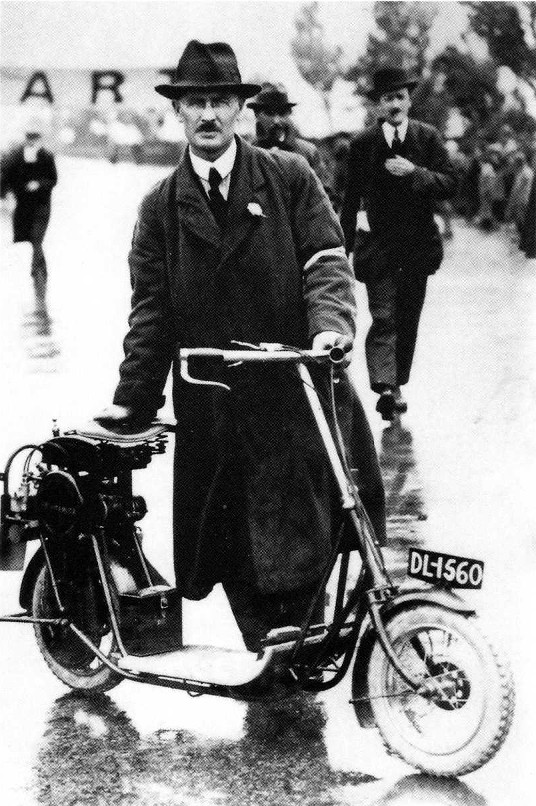 Mr H.H.Burrows on a prototype Skootamota after winning a scooter class race in Westcliff-on-Sea Speed Trials in July 1919.
At the end of the war, many aircraft factories carried on producing large numbers of craft for a short while, although it was very obvious that some other engineering work would have to be undertaken even if purely as a stop-gap. The Sopwith Aviation Company was one such firm. Late in 1912 a roller-skating rink was acquired in Canbury Park Road, Kingston-upon-Thames, where T. O. M. Sopwith, with Harry Hawker and Harry Kauper, built his own aircraft. During the war the business expanded and included the large factory along the Richmond Road, but after the Armistice was a sudden lull. To keep the company going, it was decided to take on the production of the A.B.C. motor cycle, and all the latest equipment was installed for its manufacture. The production version was described in the Press of November, 1919, so it is unlikely that many reached private hands that year. As first envisaged, the finished article should have cost £85, but as first sold the price was nearer £110, and this was soon to be raised to £130. For this price one received a solo machine in its standard finish of enamelled matt-black gunmetal, with a sight-feed indicator and auxiliary hand pump included in the oiling system, whilst a speedo driven from the gearbox was £5 extra, and Lucas lighting set £22 extra. The sidecar chassis and body was listed at an additional £32, which brought the cost of a fully-equipped combination up to £170-190. A kick starter became optional in April, when the speedo drive was taken from the front wheel, whilst some had found their way to India where, with electrics, the solo machine sold for 1,790 rupees. The following month saw yet another price increase, this time up to £150, and later in the year the 1921 modifications were announced, which comprised separate lubricators to each cylinder, a small rectangular tool box fixed on top of the tank, a straight instead of curved front spring, and a new sprung sidecar chassis. Suddenly in September, 1920, it was decided to go into voluntary liquidation while still solvent, the Hawker Engineering Company being set up to take care of the company's aircraft commitments. Bradshaw's motor cycle was too original in its design, and therefore far too costly to make and sell at a profit. Although the solo price went up to £150, to make the smallest margin of profit this price should have doubled, and hence a production run of only 11 months. The Hawker motor cycle was produced when the company was reconstructed, but consisted of assembled parts to a great extent. Up until that time, 2,200 bikes had been sold in 1920, and possibly 300-400 during November-December, 1919, whilst the remaining stocks were built into complete machines at a rate of double figures each week until at least July, 1921, some of the last being completed by Jarvis's of Wimbledon.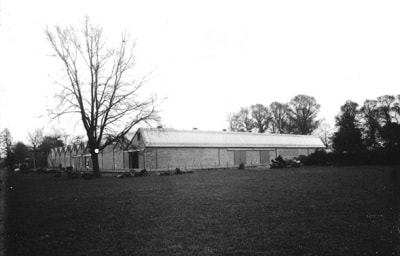 The new 1920 factory at the back of Hersham Lodge.
The arrival of the post-war motor cycle had been long awaited, especially by those with a view to competition work, since the prewar model had been so successful. Several events were supported by the works in 1919, including the London-Edinburgh run, the prototype machines being completed only a few hours previously, and not being at all tried. The two riders, Jack Emerson and E. M. P. Boileau (from Gnome et Rhône), both completed the course, which was most encouraging for their first time out. During 1920, the works continued their support, notably with Emerson, and private entrants also had a great deal of success. Outstanding amongst these were Fairley, Applebee Junior and, occasionally Senior, E. A. Colliver, Eric Porter, F. J. Boshier-Jones, H. R. King, and many others. In September, Emerson broke 25 records, including the 50, 100, 200, 250, 300, and 350 miles, and the one, two, three, four, five, and six hours, one hour being at 70.44 m.p.h. At the Southend A.C. speed trials in October G. H. Stewart secured f.t.d. but in doing so ran out of road at the end of the course, hitting some stones and somersaulting. Machine and rider were both unhurt, which spoke well for the construction of the A.B.C. frame and of G. H. Stewart, and both competed in the following event. In France the most consistent riders were Nass, Bergetti and Detruche, although, in one particular Grand Prix, Naas was fined 100 francs for going round the course in the wrong direction!
This 400 c.c. machine was well received generally and, although it did not have the top speed of the pre-war model, it possessed vivid acceleration, and was therefore ideally suited to speed trials and hill climbs. One fault appeared common to all machines, that being the frailty of the push rod design, and to overcome this, several conversion kits were marketed such as the Taylor-Young, Jarvis, Inglis and B.E.W. Unfortunately there was never sufficient time to rectify these troubles properly, and A.B.C.s faded out of competition work during 1922-23. In France, the Societé des Moteurs Gnome et Rhône acquired control of the Société Française des Motocyclettes A.B.C. in November, 1920, and continued production until about 1923, also introducing a 500 c.c. model with increased stroke, which had in its standard form a 100 km.p.h. speedometer, an oil circulation indicator, and an eight-day clock. It also boasted light car rims and tyres and voiturette valves to the cylinder head, and sold for the equivalent of £116. Some effort was made for the Sopwith works to be taken over as a going concern, and failing this for the French-built bikes to be imported, but neither of these suggestions ever reached fruition.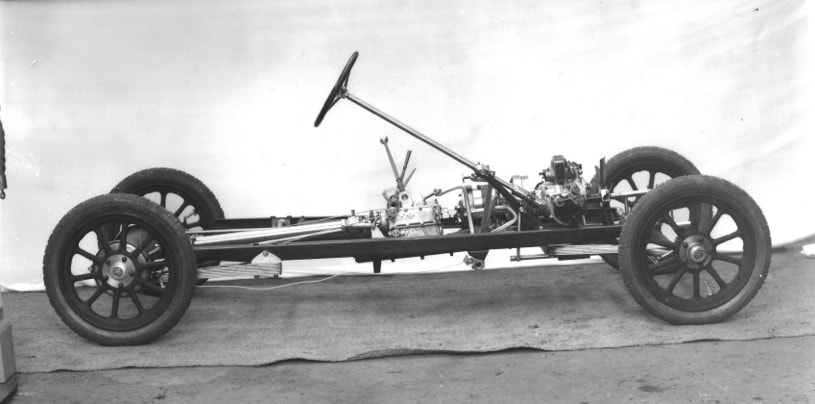 Prototype chassis at the 1919 Olympia Show in November 1919.
In June, 1920, Bradshaw announced the design of an electrically-controlled invalid carriage, comprising a motor cycle sidecar on four wheels, with an electric motor driving the rear wheels by chains. A battery would supposedly last 35 miles on a single charge, and the vehicle could be supplied with either hand or foot controls. One is said to have been tested, but no further information can be found, and nobody remembers hearing anything about this machine.
Some aircraft had Dragonfly engines fitted after the First World War, including several Nieuports, one of which was flown in the 1919 Aerial Derby by Lieut. L. R. Tait-Cox, but developed engine trouble and retired. Others were more successful, possibly being fitted with pre-production engines, and Harry Hawker would often be seen over Kingston and Hersham, sometimes dive-bombing the works or performing aerobatics, which would cause all the employees to rush out and spectate, much to Bradshaw's annoyance.
The "Gnat" engine was also used after the war in several aircraft, including the Blackburn (probably a one-off) and the B.A.T. Crow, a sort of flying sidecar. The manufacturers of the latter pointed out to potential customers that they would be better advised to learn to fly not on a B.A.T. Crow, but on someone else's aircraft! It was also fitted to the Farman "Le Moustique", the De Marcay, and the 21-planed Sanchez-Besa (this looked like a mobile venetian blind).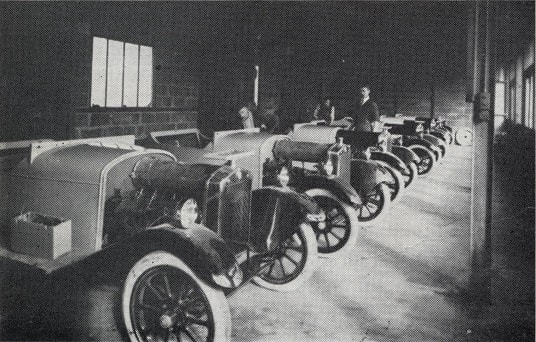 Assembly of the "Sports" model at the old Esher Road factory in 1920.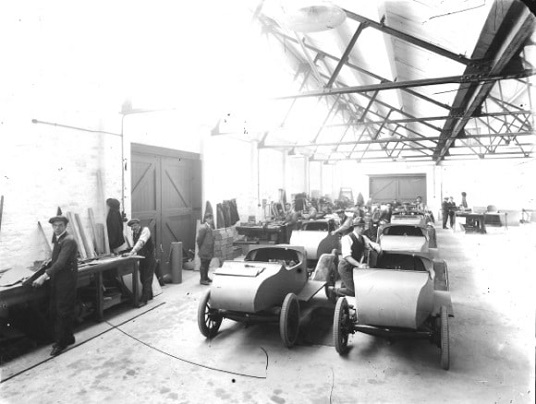 Assembly of the "Sports" model in the body shop mid-1921
(noting the artillery wheels).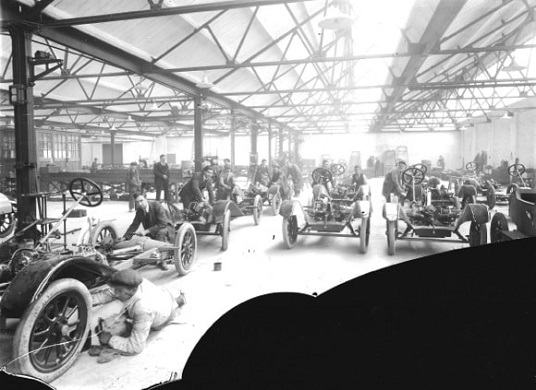 Chassis assembly mid-1921.
After the end of hostilities late in November 1918, there was a sudden influx of activity for non-aviation products, and the company minutes refer to the 1100cc engine being completed, but the chassis was barely at the experimental stage. It was suggested that the Hersham works could produce around thirty cars per week once it was on a production basis. With this in mind the company was in negotiations for 400 1100cc cyclecar engines with Gillet Stephens & Company, who had been involved with the auxiliary engines during the war, whilst a diagrammatic chassis layout was produced in Motor Cycle for 5th December 1918 showing a transverse flat twin engine, friction drive transmission and chain final drive to each rear wheel. The engine in some reports was now suggested to be 1200cc and by mid-January 1919 the company had received orders for 277 light cars with deposits totalling £1385 (£5 per car).
There was also mention of the big car in the minutes, for which development work would continue on a spasmodic basis as to not interfere with the cyclecar as it was then still termed. The big car was to have used a 100hp five cylinder radial engine mounted at the front of which the engine could be rotated to maintain each cylinder but as it happened, development does not seem to have got any further.
By 1919 the cyclecar had advanced to a light car, and the mechanics were described by the motoring Press in March, although any thoughts of bodywork at this stage were rather incidental.
Early in February both Country Life and Light Car & Cyclecar reported that the car would have a four speed gearbox with bevel final drive and that the cars would likely make an appearance by the end of May 1919. 1000 light car chassis were ordered through Selsdon Engineering Company Ltd early in April (another outlet for Gilbert Campling), but by the middle of that month Selsdon were saying they could not entertain the manufacture of complete chassis but would entertain making the gearboxes.
Good publicity was gained late in April and early May with both Light Car and Cyclecar and Autocar carrying articles on the new ABC light car with an artist's impression of the car and line drawings and photos of the engine, which was great for potential customers, but as we are seeing nothing yet had been finalised regarding its production by the company which would require some form of restructuring. Due to these optimistic reports some 3,000 orders had already been received for the light car, and the 1919 production target was 4,000 cars. They were to be sold by the New Service Organisation for Motorists, which was connected with the Motor Union Insurance Co. Ltd., for about £195 per vehicle, deliveries starting in June.
Towards the end of May 1919 the company was in negotiations with a Mr Metts of Gillet Stephens, which resulted in a proposal from Sir Samuel Waring (of Waring & Gillows and a major shareholder in Walton Motors) to take over the manufacture and sales of the ABC light car through Gillet Stephens. A further meeting in mid-June with Metts and Gillet resulted in an agreement for Gillet Stephens & Co to proceed with the manufacture of 400 light cars to drawings and specifications provided. However by late September the formalities had not been concluded, so Captain Charteris then tried to interest the Aircraft Manufacturing Company (makers of Airco and DeHaviland aircraft) who suggested that they might be interested subject to an order for a minimum of 4,000 cars. A further consideration was to extend the ABC factory by going to the public for funding, whilst the MD was also going to France to pursue any possibility of the cars being made by the French Gnome et Rhone company, who by this time were setting up production of the post-war ABC 398cc motorcycle in parallel with production in the UK by the Sopwith Aviation Company Ltd.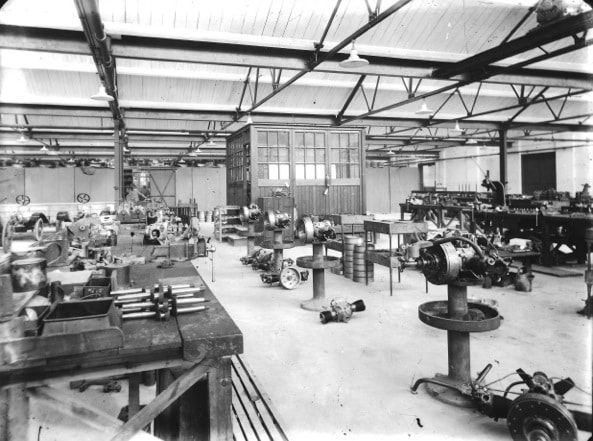 Engine assembly and test shop at the new factory in 1920.
A prototype car was road tested during May 1919 with cushion covered soap box and not surprisingly without the weight of the coachwork, performed briskly. This had a transversely mounted 1223cc flat twin air-cooled engine (91.5 x 91.5mm) with machined steel cylinders, overhead valves operating in cast iron hemispherical heads and making liberal use of roller and ball bearings as on previous ABC engines. Originality was frequently Bradhsaw's strong point and the separate four-speed gearbox was not only unusual in light cars but also had the distinction of using a vertical gate with all gear selection being either forwards or backwards. A prop shaft within a torque tube transmitted power to the back axle via a bevel pinion and crown wheel in a deceptively heavy looking rear axle, although the cones either side of the central aluminium portion were made of thin section rolled light steel. They were riveted in position to malleable iron brake brackets at the outer ends and to flanges on the inner end which housed the main bearings. The chassis frame was channel section but tapered outwards towards the rear end, with a tubular front cross member and channel cross members supporting the sub frame on which the engine and gearbox were mounted. Quarter elliptic springs were used all round, the front ones being rigidly fixed to the front axle and the rear ones running on rollers fixed to the back axle. Artillery wheels were fitted with 700 x 85mm tyres. The frontal appearance looked quite conventional, but the 'radiator' was a dummy and the filler cap lead to the cylindrical petrol tank fixed above the engine, this leading on a number of occasions to garage attendants filling the tank with water. There was also a six-bladed metal fan behind the radiator and this sometimes parted company and punctured the tank above causing a conflagration that ended the usefulness of a few cars.
A second prototype was to have been exhibited at the 1919 Olympia Show, but Autocar reported that it was unfortunate that the only example of a finished car to be shown was seriously damaged in transit, leaving only a chassis for potential customers to ponder. This had a longer wheelbase and overall length, decreased track, and a single plate Ferodo clutch instead of cone, whilst tyre size was now given as 710 x 90mm. Optional body colours would be buff, blue or grey with black chassis and mudguards, and a price was given for the 2-seater of £295, with a dickey seat as an optional extra.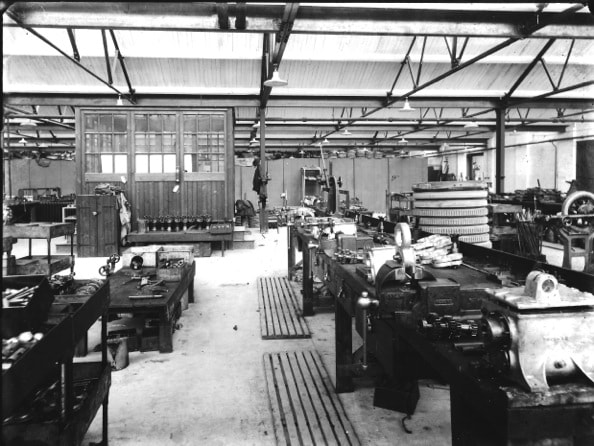 Gearbox assembly bay mid-1921.
In the middle of December 1919 in relation to the proposed new enlarged company, Granville Bradshaw stipulated that he should receive 1/3rd of the purchase price payable to the vendors from the sale, a proposal the MD considered unreasonable, and thus Bradshaw resigned. It was suggested that perhaps he could be persuaded to continue as consulting engineer and designer at a fee of £1,000 per year for two years, but whilst he continued to see through the finalisation of drawings and specifications Bradshaw's mind was already made up, regarding the situation as likely to introduce too many new people telling him what to do, when they had little real design experience themselves, although he seems to have stayed on until about March 1920.
In the latter part of January and into February 1920 Sir Samuel Waring put forward a proposal to amalgamate ABC with various other of his companies, whilst Sir Davison Dalziel proposed an amalgamation with Gilbert Campling. Tom Dennis, the Company Secretary, was left to negotiate terms of various proposals and to obtain from an approved agency a prospectus for an increase in capital of up to £300,000.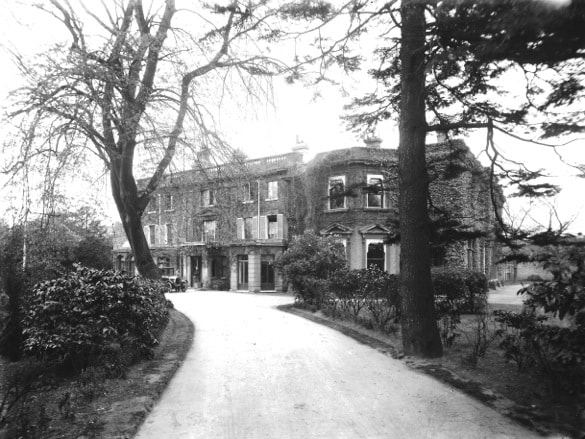 Hersham Lodge in the days of ABC Motors (1920) Ltd with a Bean car outside.
By the end of February 1920 another proposal was being considered in which Harper Bean Ltd., itself inaugurated in November 1919 with a £6million capital, would supply sufficient materials to produce 5,000 cars per year and that they would guarantee the sales and marketing of the car through the British Motor Trading Corporation assuring a profit on each car of £20. The idea of Harper Bean was to emulate General Motors in America, which grouped several suppliers of component parts and manufacturing companies under one umbrella organisation in order to benefit from cheaper supplies by ordering in volume. Apart from Bean this also embraced Swift and Vulcan as well as the Regent Carriage Co., Gallay Radiators, and shares in Hadfields the Sheffield steel suppliers. H J Whitcomb (who formed Harper Bean Limited with Jack Bean and Charles Wardman of Vulcan in 1919) was to become Chairman.
On the 18th March 1920 the prospectus of ABC Motors (1920) Limited was signed (the old company to be wound up within the next month) and the following day an EGM was held at Hersham Lodge at which an agreement was signed between ABC Motors (1920), the British Motor Trading Corporation and Harper Bean. Similar agreements also covered the motor cycle and the Skootamota, the yearly output of motor cycles being 10,000 in England, plus 3,000 in France, each of these producing a £3 10s. profit, and an annual output of 20,000-30,000 Skotamotas, each bringing in a profit of 15s. Based upon these figures, the Bean-controlled A.B.C. company proceeded for the next few years getting into deeper and deeper debt, since these figures were never within the productive grasp of the various factories. Like many other companies of the immediate post-First World War period, their projects for mass production were far too ambitious (e.g., Angus-Sanderson and Cubitt). When Beans took control, a new factory was built at Hersham, opposite to the existing one, and all the latest machines and production techniques were incorporated. Certain members of the Bean company took over the running of A.B.C. Motors, including H. J. Whitcomb as chairman (chairman of Beans), J. Harper Bean as a director (managing director of Beans), Ernest Noel, Maurice Yorke and Capt. Ronald Charteris. The last two were directors of the old A.B.C. company, Capt. Charteris being an early aviator, and founder of the company in Redbridge. Mr. T. A. Dennis remained as secretary, whilst Granville Bradshaw was asked to remain as consulting designer and engineer. Interestingly enough Granville Bradshaw was a shareholder in the new company.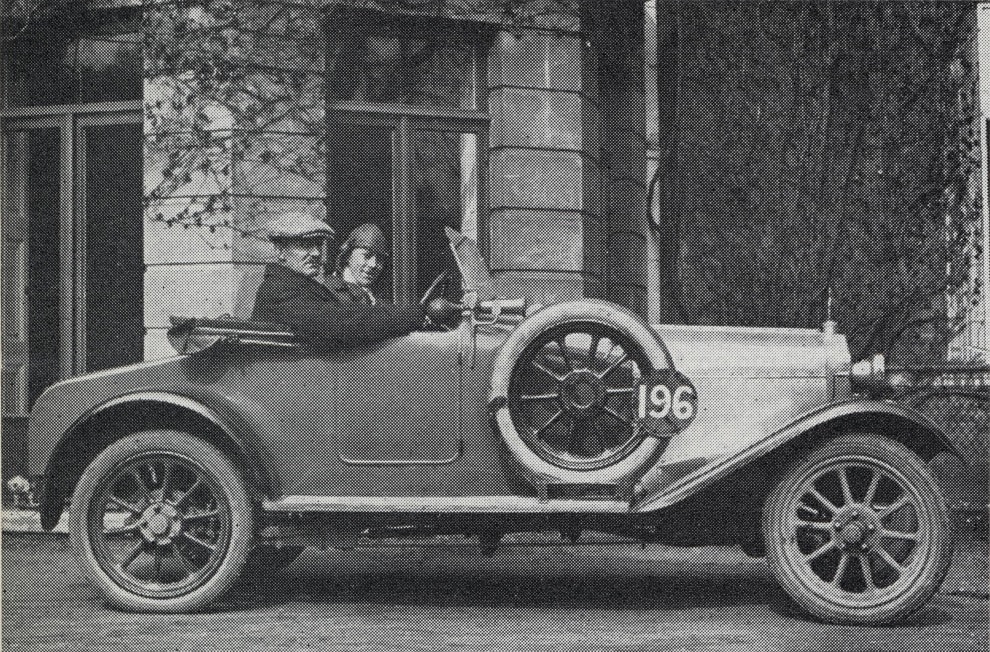 A.H. Jones after winning the "Lester Cup" in the 1921 London to Land's End Trial. - Curtesy of R.D.S.Copron
By early 1920 the price of the chassis had increased to £310, and £330 for the complete car including spare wheel, but oddly not tyres. Most of 1920 would seem to have been taken up in equipping the new works and producing a final product with announcements in the press every now and again on how soon it would be until cars were likely to be delivered, such as the announcement in Autocar on 17th July saying deliveries would commence the following month at the rate of six cars per week, reaching 40 cars per week by January 1921. Chassis numbers 1 – 30 were allocated for August, 31 – 85 for September, 86 – 186 for October, 187 – 300 for November, and 301 – 450 for December. An encouraging development was the appearance of S C H Davis driving the fourth prototype (PB 5551) in its competition debut in the London - Lands End Trial on 10th April, and gaining a gold medal. This car had an aluminium bonnet, copper-plated radiator shell with transverse struts, and a higher-than-usual dickey seat.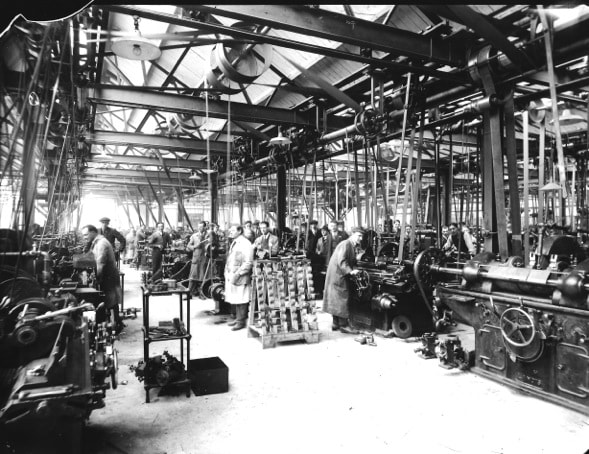 ABC's new factory showing the grinding bay of the machine shop in mid-1921, as illustrated in "The Automobile Engineer". A rack of crankshafts can be seen in the centre.
During 1920 it was estimated that orders for some 3,000 cars had been received, but many got fed up with waiting and cancelled orders, a fate unfortunately suffered by several would be players in the post-war rush to produce vehicles. Every few weeks a few lines would appear in the motoring Press assuring would-be owners that production would be commencing within the next week or two, and I will not bore readers with the number of times this happened, or with the minor specification and price changes that took place in this time.
The first time most members of the public were able to see the car was at the White City Show in November 1920 at which a chassis, a standard 2-seater and a sporting model were shown. The standard car was now £415 and often called the Regent as early cars carried bodies by the Regent Carriage Company. The 'sporting' model was something of a misnomer, as there were no mechanical differences, just lower seating and no doors or dickey seat provided, leaving less timber framing used and hence a bit lighter construction. Slight variations to design now included the deletion of the crankcase air releases in favour of one larger air release on the magneto drive pinion casing; tappet adjustment was now on the rocking lever end of the pushrods; the size and shape of the inlet pipe altered; a joint introduced in the exhaust pipe so that the cylinders could be detached from the crank case more easily; the clutch enlarged in diameter with stronger springs, and a longer brake lever incorporated.
Production was slower than that published in Autocar, and chassis No.27 (with engine No.53) was first registered on 24th January 1921 although it does seem that a few cars would have been registered late in 1920. Numbers issued were not in a strict sequence, and engine numbers were generally somewhat higher than chassis numbers. In the early part of 1921 as the works were progressing and incorporating its own body and paint shops, the Regent nomenclature was dropped in favour of the in-house Surbiton model which looked pretty much the same. The Sporting model had the battery box moved along the running board to provide a step into the car and access to the boot was by moving the seat forward, eliminating the need for a boot lid or dickey seat. In March the price was reduced to 365 guineas for the Standard two seater and 330 guineas for the Sporting model, whilst the chassis was available for 295 guineas. A surprising number of chassis did have coachwork by a number of outside coachbuilders including Gordon Watney of Weybridge, Compton and Hermon (probably for George England, the local Hersham agents), and Morgan & Co of Leighton Buzzard who produced a cloverleaf three seater for the British Motor Trading Corporation in black and cream.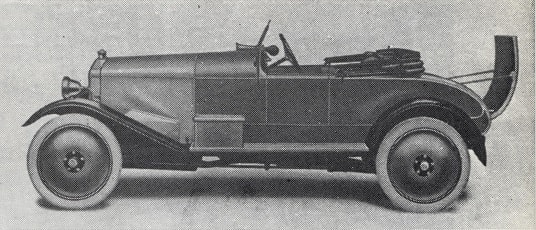 ABC 12hp Standard two-seater and dickey model.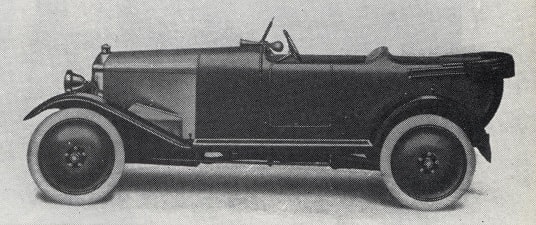 ABC 12hp Standard four-seater model.
The company supported numerous trials of the period often with a team of five drivers comprising Vaughan Knight (Sales Director), Capt Charteris (Director), A H Jones (Chief Tester), and one or two invited drivers such as S C H Davis or Jack Falahee. In time, many other private owners also competed with considerable success up to about 1927 gathering cups, and gold, silver and bronze medals. Gordon England was one of the company's early customers, his father George running the local agency. He modified his car for racing at Brooklands over the period 1921-1923. Suffice it to say that the car competed in the up to 1500cc class, but was hampered by being only 1223cc, in the same way that the 398cc motorcycle gave away 100cc in its 500cc class. In its final year the car was fitted with a Bristol Cherub aero engine in order to compete within the 1100cc class in the 200-mile race, and came fourth driven by Stephen Bassett.
From March 1921 Sankey disc wheels became optional and soon standard instead of the artillery variety and in about May 1921 (Car No.203) a bevel pinion instead of a spur type of differential became standard in the back axle. A new Standard model was introduced in the latter part of the year looking similar to the Sporting model, but having side doors and dickey seat, whilst at the White City Show in November a parcel shelf was incorporated under the scuttle, carpets fitted instead of mats and a Smith's electric starter and dynamo offered as an optional extra (from Car No.400). Both styles now came with aluminium bonnets and grey coachwork. Something like 550-600 cars were sold that year with latterly just two models being offered, the Standard and the Sports, these incorporating dummy honeycomb in the bonnet extensions for the cooling of the cylinder heads rather than being left as voids.
Prices were now beginning to drop, to 365 and 330 guineas respectively. Gordon England was one of the company's early customers, his father, George England, being the local A.B.C. agent. His car was fitted with Rudge-Whitworth wire wheels, and had a pretty machined, streamlined, aluminium body with full-length undertray and quickly detachable mudguards. In this form it competed at Nailsworth Ladder in September, 1921, being extremely brisk, but bottoming on the rough surface due to the reduced ground clearance afforded by the undertray. It was also entered for the 200-mile race in October, but for this twin Solex carburettors were fitted, the crankcase breather supplied an oil mist to the exhaust valves, radiator shell, floor boards and foot brake were omitted, and the back axle ratio changed to 3.25 : 1. In practice, the streamlined body was found unsatisfactory, so a ghastly-looking angular affair was hurriedly built overnight, and in this form it raced for 2 hours 53 minutes and 15 seconds, at an average speed of just under 70 m.p.h., securing 14th place overall. Although this does not sound particularly good, it must be remembered that this was a 1,223 c.c. car in a class for 1,500 c.c. cars, and the other entrants' engine capacities were in the 1,496 c.c. region, also being four-cylinder cars in the main.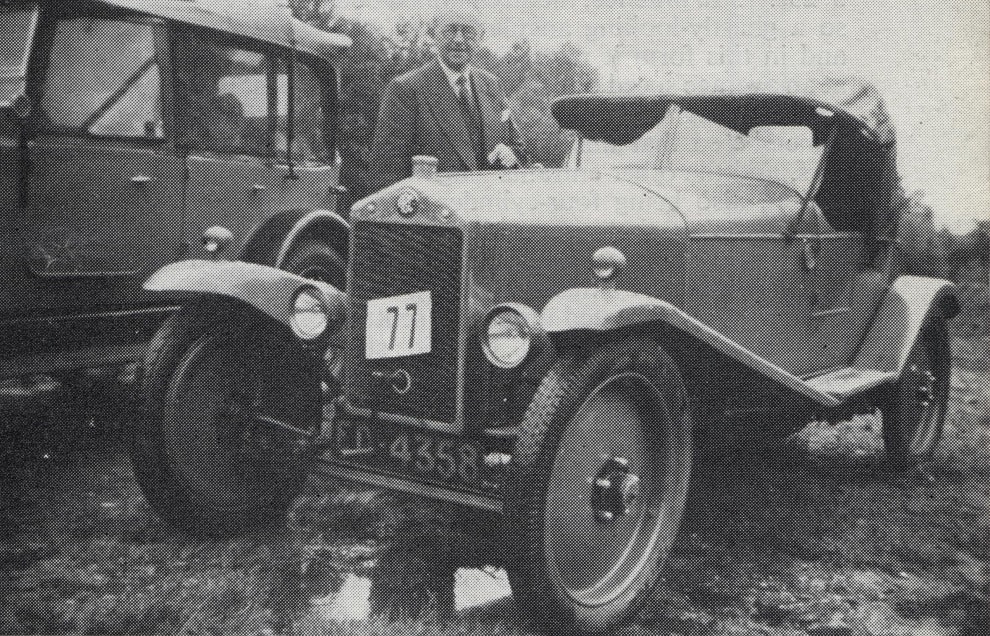 D.A. Hales ABC Supersports model as owned and restored by G.de Jongh. Granville Bradshaw is standing behind the car. - Courtesy of G.de Jongh
In October that year a bevel pinion instead of spur type of differential became standard in the back axle, the number of cars being produced by this time being in the region of 200. A parcels shelf was incorporated under the scuttle, carpets were fitted instead of mats, and a Smith's electric starter and dynamo became optional, the starter remaining an extra for the rest of the car's production life. From the time of the 1921 Motor Show only the Standard and Sports models remained, both these having aluminium bonnets and French-grey coachwork as standard. A nickel-plated chassis was also exhibited. Due to noise and fumes from the silencer and exhaust pipe, which were situated under, and just behind, the engine, these items were moved to a new position under the seats where the objectionables were only heard and smelt by occupants of the following car. The Standard model had a battery box on the near side, which on the Sports model was moved back to provide a step into the car, and both models now sported dummy honeycomb in the bonnet side valences. Several were exported to India where they were tested on the Bombay-Poona road, the 120 miles taking just over four hours, and a petrol consumption of nearly 40 m.p.g. being returned. This road was fair for over half its length, but extremely rough for about a forty-mile section. In India prices were 7,250 rupees and 7,000 rupees for the Standard and Sports models, whilst in England they now cost £325 and £295 respectively.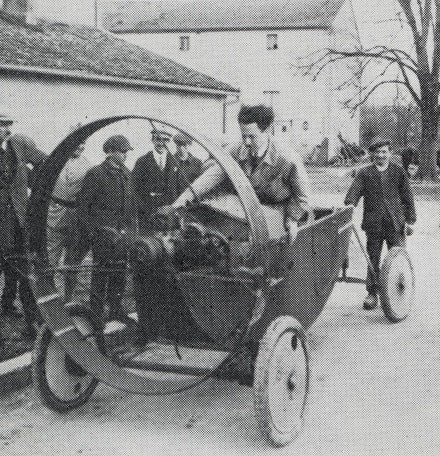 A 1925 photograph of the 1921 Leyat propeller-driven car with ABC engine.
For a light car, the A.B.C. offered a surprising number of special coachwork styles. Gordon Watney did an improved Standard model with twin spare wheels and extra weather equipment; George England offered a four-seater, access to the rear being through a hinged front seat; and Morgan & Co. Ltd., of Leighton Buzzard, made a clover-leaf three-seater for the British Motor Trading Corporation, finished in black and cream. George England later introduced an improved two-seater model incorporating special valve springs, push-rod return springs, and lubricated valve rockers, all learnt from Brooklands racing, and a two-bladed timber fan, later added to normal A.B.C. specification. A very pleasant sports body was fitted with vee screen and outside exhaust pipes, but it is doubtful if many were sold at £450 a time.
Nineteen twenty two was a comparatively good year for sales with some 750-800 being sold, but since the anticipated output was 5000 cars per year, the Company was getting deeper and deeper in debt. This was reflected by the fact that J H Bean and H J Whitcombe resigned from the board in April 1921, Ernest Noel in December 1921, Maurice Yorke in April 1922, and in July 1922 Capt. Charteris, founder of the Company in 1910. There had been two entries by the Company in the Royal Scottish Automobile Club's Light Car Trial from 5th-10th June 1922, but these were scratched before the event. A receiver was appointed in November.
Little modification took place during the year which was hardly surprising other than to rectify minor quibbles that customers had, although a four seat tourer was available even though few are likely to have been made (the late Bill Boddy of Motor Sport had one of them as his first road transport). Production relied upon the number of engines being completed and this rose from two per week early in 1921, to eight per week by the latter part of 1922.
When tested at the factory, the balance weights on the crankshaft removed small pieces of the cast-iron piston, and, after the test, the engine was stripped down, washed out, reassembled and passed on to the next section, where it was bolted to the chassis. Some difficulty was experienced with the hardening of some of the earlier crankshafts, and several complaints were received of the rollers in the big-end bearing biting into the crank and seizing up the engine. To remove the cylinders it was just possible to insert a hacksaw blade between the crankcase and the bottom of the cylinder, and saw through the con-rod. Push-rod throwing epidemics also seemed fairly common practice on A.B.C.s, but was probably caused by insufficient lubrication of the rocker gear, to some extent, by their owners. To rectify the latter complaint, various kits could be obtained to enclose the pushrods and rockers, and also to provide some form of constant lubrication, and these were sold as the G.T. (Geoffrey Taylor, London Road, Kingston), Jarvis, Inglis and B.E.W. (Brooklands Engineering Works, Cobham), similar kits also being available for the motor cycle, which was of similar design.
In 1923, the remaining stocks were used up as far as possible, and it is unlikely that further materials were required. A revised engine was, however, offered, incorporating cast-iron instead of steel cylinders, and a four-seater body was also offered, this being constructed by Comptons, the local coachbuilder who also made bodywork for some of Gordon England's cars. One such body was that used on his 200-mile-race car for the 1922 season, a photo of which appears in Boddy's The History of Brooklands Motor Course. In 1922, this car averaged 74 m.p.h., with a best lap of 86 m.p.h., to finish seventh out of 18 cars, the following year being fitted with a Bristol Cherub engine and finishing fourth, with an average speed of just under 70 m.p.h. What happened to this car after 1923 is entirely unknown.
The Company proposed a pay decrease in 1922 which the unions rejected, after which many workers were laid off. In 1923 short time came into being with two weeks on and one week off, leading to one week on and two weeks off. Few could survive on such a precarious living and the company was wound up in July of that year.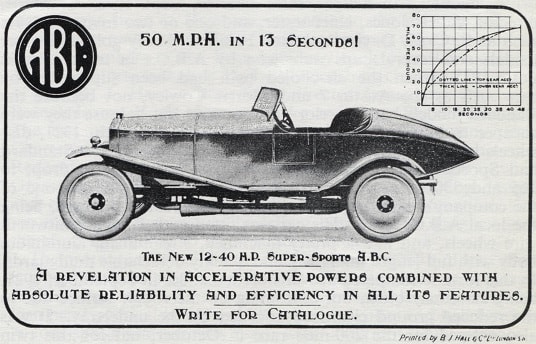 1925 ABC advertising card.
By December 1923, consent had been given to the registration of a new company, ABC Motors Ltd., with T A Dennis as Managing Director, who from 1915 had been the Secretary of the Company. Any stocks remaining were taken over, the new factory sold and all work reverted to the Old Esher Road factory across the way from which several more cars were assembled and sold at £160 for the Sports, £175 for the Standard, and £185 for the four-seater. The term 'Standard' also appears to have been dropped shortly afterwards in favour of a reversion to the 'Regent' name, which poses the question as to where these bodies were made. It is likely that a new batch of cast iron cylinders were made from about 1924 instead of the machined steel ones and these were also made in larger format for the new Supersports model introduced late in that year (91.5 x 96.1mm giving a capacity of 1326cc).
The new Supersports was fitted with a two-seater polished aluminium body with pointed tail, staggered seating and V-screen made by Compton & Hermon, the local coachbuilders. The engine had a larger crankshaft with double roller big-ends and the valve rocker mechanism was redesigned with larger bearing surfaces for the pushrods, both pushrods and rockers being enclosed to aid lubrication, somewhat on the lines of the Taylor Young valve conversion set on the ABC motorcycle. An oil tank mounted below the subframe supplied lubrication to twin adjustable sight feed indicators on the dashboard, with a recommendation to deliver 60 drops per minute to each cylinder. Helically cut timing wheels replaced straight cut type and twin Zenith triple diffuser carburettors were fitted. Each cylinder had its own silencer and exhaust pipe, finished off with about one foot of copper pipe, which gave a certain resounding ring when in use and not especially favoured by horses. Fifty of these larger engines were made. Some could have gone into standard cars and eight went for scrap after WW2, leaving a maximum of 42 built. Five of them appeared on the 1927 London – Lands End Trial organised by the Motor Cycling Club, perhaps the largest number ever seen together.
The body was similar to Gordon England's 200-mile-race car, with staggered seats and pointed tail, and was built by the same coachbuilder, but incorporated a vee screen, a small door, and a triangular boot which contained the spare wheel. Raked mudguards were fitted to add to the car's sporting looks, and all the bodywork was finished in polished aluminium. Shock absorbers were fitted as standard, and most cars retained disc wheels, although at least one had Rudge-Whitworth wire wheels, which were somewhat lighter, these having either 710 mm. x 90 mm. cord, or 715 mm. x 115 mm. cushion tyres. In its standard form the Supersports sold for £275, which compared quite favourably with offerings from other manufacturers selling this type of vehicle, but although the A.B.C. had very good acceleration, its top speed was only 65 m.p.h., so would not appeal to anyone who had a view to any serious competition. The first of these cars, possibly a prototype, was constructed for a South African enthusiast who ordered many extra improvements which in all pushed up the price to nearly double the original. Shortly before it was to be delivered, the customer died, and this car was used by T. A. Dennis as the works car (Reg. No. PD 4837), and as such was frequently seen in and around Hersham. In the course of the next two or three years 42 of these cars were sold, although at no time was it exhibited at a motor show, the company now tending to concentrate once again on aero engines, and building cars almost as a hobby. Some experimenting was apparently undertaken with the fitting of a water-cooled Anzani engine, and also with a Scorpion Mk. II aero engine of 1,500 c.c., but neither were adopted, and the car finally faded away about 1927.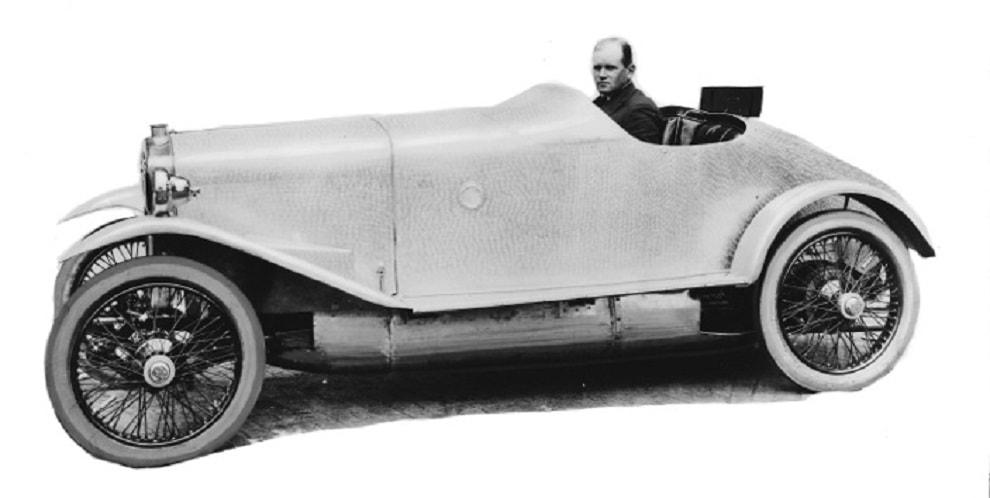 Gordon England's first attempt at a sporting body on his 200-Mile Race car. Aluminium is thumb turned, coachwork by Compton & Hermon. Wire wheels make the car far more attractive and slightly staggered seats can be seen, together with a fair sized under tray.
In all about 1500 ABC cars were built between late 1920 and 1927. Some previous references have given the terminating date of production as 1929, but this is thought to refer to the final dissolution of ABC Motors (1920) Limited as reported in the London Gazette of April 9th that year. About ten examples survive, half of which are outside the UK, whilst there are one or two much modified 'specials', some just incorporating ABC engines.
For both general use and for constant speed racing or even sprints, the ABC engine seemed reasonably robust, but what it was poor at was track racing where gear shifting was constantly required. Engines had a habit of suffering when sudden high revs were required when changing down gears, causing failure of con-rods or crankshafts. Several engines have failed in more modern 'specials' for just such reasons, which means that there are now few 'spare' engines about.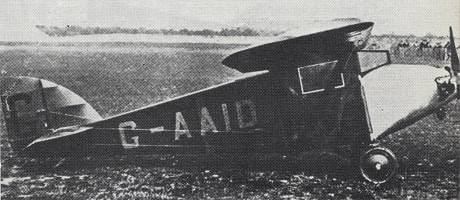 The only complete aircraft built at ABC Motors. The "Robin" with "Scorpion" engine, 1929.
At this stage it should be pointed out that A.B.C. engines were not only installed in A.B.C. cars. Marcel Leyat, who designed the propeller-driven Leyat car, used an A.B.C. car engine, known as the Scorpion, in his Type 2 H. car, and at least one of these exists in the Le Mans Museum, donated by Mons Gustave Courau, who bought the car when new (actually the first Leyat sold). Anyone interested in these vehicles should obtain a copy of Les Automobiles a Hélice by Gustave Courau, which fully describes and illustrates them. Monsieur Andre Jacquemin also had a Leyat with A.B.C. engine, which he kept for some years before removing the engine and installing it into a hydroplane which he had designed. This did not prove too successful, and once more the engine was removed and this time fitted to various Leyat-Jacquemin light aircraft. In all, this engine survived from the early twenties to the late thirties, when attempts expired. An Archer car was also designed in France, also propeller driven, and again at least one exists, but whether this used an A.B.C. engine I have yet to find out. A car engine was installed in the Passat Helithopter, built by Mr. Passat of Wimbledon. He was one of the less-successful inventors early on in the aviation field, tending to adhere to designs incorporating flapping wings. These having failed, the helithopter was constructed with the help of his wife and family, who cut out the canvas shapes for the wings and sewed them together. Two sets of wings revolved in opposite directions, powered by the A.B.C. engine, but when tried out on Wimbledon Common late in the thirties, the machine leapt about in different directions, finally shaking itself apart. The motor cycle engine was also used to power one or two ultra-light aircraft, one being flown at the 1923 Lympne Trials by Squadron Leader Wright. This was later used to restore a similar type of aircraft now in the Shuttleworth Collection.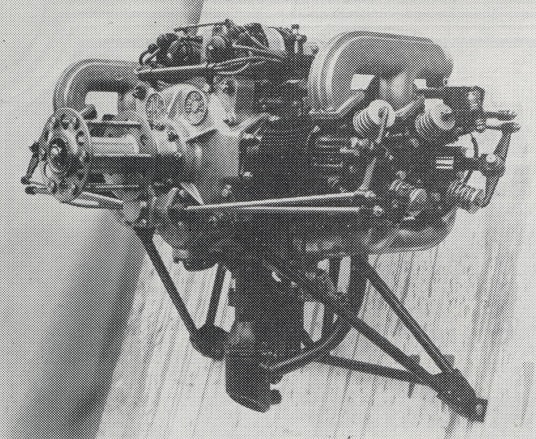 ABC "Hornet" engine, 1931.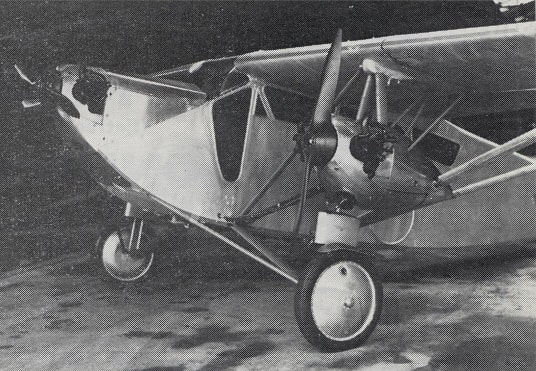 Navarro Chief monoplane with three ABC "Scorpion" engines, 1931.
As said previously, the car engine was in fact known as the Scorpion, and with some minor modifications was flown in the 1924 Lympne Light Aeroplane meeting, but was not sold in any numbers for use in aircraft. In 1926, however, the Scorpion Mk. II was produced, designed by a Mr. Elliott, but in fact being very similar to the old Bradshaw design. This had a one-piece crankcase with integrally cast inlet manifold, plain floating bush big-end bearings in bronze, and a bore and stroke of 102 mm. x 91.4 mm., giving a capacity of 1,500 c.c. Several of these were fitted to single-seater aircraft, and proved quite a success during the late twenties and early thirties, some finding their way to Poland, Rumania, Australia, America, Germany, etc. Encouraged by this success, a similar engine was designed, but with four cylinders, known as the "Hornet". This consisted of a cylindrical crankcase in three sections, with a two-throw crankshaft housed in three bearings. The cylinder heads and pistons were interchangeable with the "Scorpion", but the cylinders themselves had an increased stroke, giving a capacity of just under four litres. A few aircraft were fitted with this power unit, but it was nowhere near as successful as the Scorpion, and little was heard of it after 1930.
Lord Ridley joined the company in about 1929, and set about the design of a small auxiliary engine. This was finally produced in 1932, and consisted of a flat-twin engine with 54 mm. x 38 mm. bore and stroke, capable of operating five auxiliary units, these being a 50 amp. 12-volt dynamo, a petrol pump delivering 2,250 gallons per hour, an oil pump delivering 300 gallons per hour, a water pump at 2,500 gallons per hour, and an air compressor which would charge a 400 cu. in. air bottle to a pressure of 200 lb./sq. in. in 10 minutes. These could be operated separately or together, except the bilge pump which operated alone, and the unit was designed to be cooled by water from the main engine supply, although a small pump of its own could be incorporated. These proved useful little units, and many were installed in seaplanes, including the "Sunderland", and the Air Ministry were also supplied with over 1,000 during the last war. Lord Ridley was, of course, better known for his appearances at Brooklands with the Ridley Special.
In 1938 the company took on the manufacture of constant-speed units, used in connection with variable-pitch propellers, as subcontract work from De Havilland's, and, during the war, Standard Motors also produced these units. Admiralty contracts were also undertaken for high-pressure air-valve units for torpedoes, including gyroscopic assemblies, and because of all this work the existing factory was extended. During the war about 500 people were employed, with both day and night shifts in operation. Since the war, only one engine has been produced, this being an air-cooled V-4 airborne auxiliary unit, known as the "Bee", several of which exist. Apart from this the tendency was to concentrate on precision engineering, such as toolmaking, gear cutting, and centreless grinding, although about 1952 a small department was set up to manufacture experimental and prototype electronic units and to test such gear as customers wished. In 1951 A.B.C. Motors became a subsidiary of Vickers Ltd., and they remain as such today.
Of the total production of A.B.C. vehicles, the survival rate is quite good: roughly 200 motor cycles, including two Veteran models, probably about 100 Skootamotas, and about 10 cars. The Sopwith machine started numbering at 1001 and real experimental prototypes were likely lower than 1010. Models 1010A, 1010B and 1010C survive to this day and there must be a dozen or so that were used for the 1919 Show or to send to prospective dealers around the country during 1919, as production didn't really get under way until February/March 1920. By September 1920 when Sopwith announced they were going into voluntary liquidation, it was stated that 2,200 had been made but this is arguable, and in fact the numbers stamped on the machines had reached that figure, in other words, 1,200 had been made. Sopwith continued assembling machines up to the latter part of 1921, after which agents seem to have acquired some left over stock, such as Maudes Motor Mart of Walsall who continued to register machines into 1923. There is one numbered 3,387 and this is likely a late one put together by Jarvis' of Wimbledon who acquired much of the spares from Sopwith, and it may have a much higher number for that reason. So the total made is likely to be somewhere around 2,300.
Skootamotas are the same inasmuch that no records survive, only numbers from surviving machines or registration records. The lowest recorded number is 66, and the highest 3,277 so the total is likely to be in the region of 3,300. The vast majority seem to be registered in 1920, although some are registered in December 1919, and some in 1921 or later.
It would appear that about 1,500 was the total production of cars given that one surviving vehicle registered in 1926 has an engine number of 1497S and someone in Kingston had a spare engine of 1527S. There is also a Westall Special still in existance, this being a sprint car built for use in the Brighton Speed Trials just before the war. It did not compete until after the war, however, by which time it had two alternative engines: either an old 1,223 c.c. unit supercharged, or a standard "Supersports" engine, but neither were satisfactory for long at over 100 m.p.h.

A note about the company's address in Hersham. When referring to the post-Brooklands site, the Company minutes refer only to the 'Hersham Works' with no reference to the road, whereas those that worked there referred to it as the 'Old Esher Road' factory. It is likely that a number of plot or property purchases after 1914 gave the old Hersham works access to Molesey Road which certainly in later years was the main entrance, whereas at the back of the property access led on to Mole Road, itself running into the Old Esher Road. The latter was often flooded and was by-passed in the 1960s by the New Esher Road. In March 1919 the minute books refer to £9000 for factory extensions which were presumably behind Hersham Lodge. These were no doubt enlarged when the Harper Bean deal went through. It would appear therefore that there was never any direct access from the ABC works to Old Esher Road. The 'new' factory was acquired by the Hackbridge Company, producers of electrical transformers and cables, who in 1923 became the Hackbridge Electric Construction Company. The Hewittic Electric Co.Ltd made rectifiers, and from 1924 shared the site with Hackbridge, who in 1947 became the Hackbridge & Hewittic Electric Co.Ltd. Hersham Lodge and its adjacent factories were demolished in 1978 and the site is now the offices and research facilities for Air Products.
In the preparation of this article, I would like to thank the following for their assistance: Mr. R. M. Dennis, formerly managing director of A.B.C. Motors, Sir Thomas Sopwith, C.B.E., The Royal Aeronautical Society, Flight International, M. Gustave Courau, M. Andre Jacquemin, and the many people who worked at the various company's factories.

By D. A. HALES
(updated version of the article published on Veteran and Vintage Magazine in September/October 1970)