Page 2 of 8
Among the jobs for local racers, in late 1912 S. L. Bailey, who rode Douglas motorcycles at Brooklands, asked Bradshaw to design various parts to improve the performance of one of his bikes. Bailey intended preparing an exceptionally light machine to compete against G.E. Stanley (Singer) with whom he had a friendly argument at the beginning of October. Bradshaw provided machined cylinders, new con-rods, new valves, tappets and rocker gear. In this form, and just after a few weeks of testing, it proceeded on the 17th December 1912 to take the Class B (350cc) kilometre and mile records at 72.63mph and 70.04mph respectively, beating the 68.28mph and 67.85mph previously set up on the Martin-J.A.P. Unfortunately, the race against Stanley and Singer motorcycles never took place as Bailey had to leave for Australia right after taking the records but the speed attained highlighted the value of motorcycle engines produced with aero-engine practices and perfect balance.
The fact that Bailey had asked for revised motorcycle parts probably sparked off in Bradshaw's mind the idea of the A.B.C. motorcycle, and by early January, 1913, a 500cc opposed-twin engine had been designed and built, which, it was claimed, would fit most frames. In an article in Motor Cycling for 14th January 1913 describing this engine, it was also mentioned that there could be a 900cc flat twin suitable for a cyclecar, not that the company had any serious intention of making one themselves, rather that it might be an opportunity to supply it as a proprietary unit to others.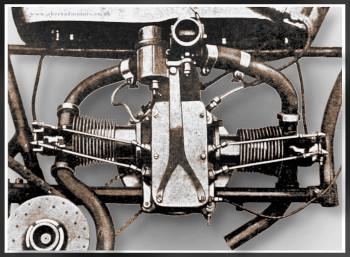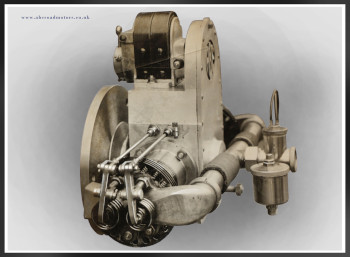 On the left S.L. Bailey Douglas-A.B.C. record engine and on the right A.B.C.'s first 494cc engine
Courtesy Mick Woollett @ Hockenheim Museum Archive & François-Marie Dumas @ moto-collection.org.
This motorcycle engine had a bore and stroke of 68mm x 68mm and employed a three-throw crank, with one large con-rod centrally, and a lighter section con-rod either side to the second cylinder, thus obtaining very good balance. The cylinder barrels were machined from a solid bar and together with the con-rods, pistons and overhead valve gear were all based on aero-engine practice, The fin arrangement on the cylinders was described as "pear shaped", which were finished in nickel plate left dull. A certain amount of adjustment was required to the majority of frames, so Zenith Motors and H. Collier & Sons were asked to design a suitable frame around the engine. The second prototype engine incorporated pressure-feed lubrication instead of splash, normal working pressure being about 50 lb./sq.in at a speed of 4,200rpm On the 29th of March 1913, the A.B.C.-Zenith appeared at the track, in the hands of F. W. Barnes, and around the same time one of the first motorcycles fitted with an A.B.C. horizontal twin was delivered to a private owner, an unnamed member of the Sheffield University Club. After this date little is heard of either the Zenith or Matchless-framed machines and development of the engine continued throughout the year.
Various modifications were made to the engine by May 1913 in preparation for the IoM TT, including much simplified valve gear, automatic oil pump and the pear-shaped fins becoming longitudinally disposed. The three throw crank was maintained for all engines but eventually proved unsatisfactory.
Four A.B.C. engined motorcycles were entered for the Senior TT under various manufacture names. George Brough, who had not finished his own engine in time for the TT, adopted an A.B.C. flat-twin but, troubles during a rather poor qualifying session, meant he had to race on a borrowed Zenith Gradua V-twin.
Watson entered the race backed by the Draycott Motor Co., a repair shop near Derby, but it seems like he didn't make it to the start of the race.
Alfred Wray, a motorcycle agent from Southport, entered a bike with the A.B.C. flat twin and a frame very similar to the one used by Brough. He was sponsored by Hugh Gibson who was a respectable Bradbury sidecar rider at trials (and at times on track) and likely in business with Alfred's brother George who tried to make his on bike the previous year using a Precision engine. Alf qualified quite well with a 14th place and during the race managed to complete 6 out of 7 laps but eventually was forced to retire due to reasons still unknown.
The A.B.C. works entered just one bike ridden by H.J. Kay. The engine was mounted on a frame made by OK and still maintained the vertical drilled fins of the first version of the engine, sign that experimenting was still ongoing and the TT was considered a test bed in the development of the horizontal-twin. This setup however did not work for Kay who struggled in qualifying and completed just one lap after several falls.
| | | | | | |
| --- | --- | --- | --- | --- | --- |
| 1913 Senior TT Rider | Motorcycle | Rider Number | Start position | Final position | Result |
| Alfred Wray | H.G. A.B.C. 494cc | 64 | 14 | OUT | Completed 6 laps before retiring |
| J. Watson | Draycott-A.B.C. 494cc 68x68 | 87 | 37 | N/A | Might not have started |
| George Brough | Brough A.B.C. 494cc 68x68 | 98 | N/A | OUT | Qualified on a Brough-ABC but raced on a Zenith Gradua |
| H.J. Kay | A.B.C. 494cc 68x68 (OK frame) | 135 | 85 | OUT | Retired after just one lap and several falls |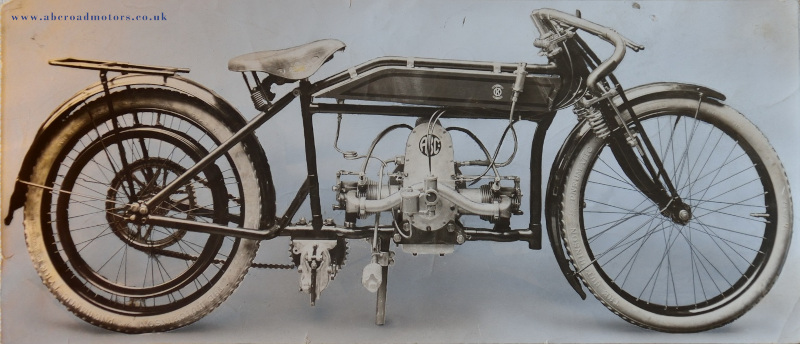 H.J.Kay 1913 Senior TT A.B.C. on OK frame – Curtesy Mick Woollett @ Hockenheim Museum Archive & François-Marie Dumas @ moto-collection.org.
Other motorcycles to use the A.B.C. unit during 1913 included the coil-spring-framed P.V. (Perry Vale, London) which gained a gold medal in the 1913 London-Exeter Run but results on track did not keep up with initial expectations. Work for aero engines was also reducing and production of these engines had been subcontracted to Messers Armstrong-Withworth of Newcastle-on-Tyne which struggled to translate Bradshaw's designs into production engines. Charteris however decided to create a new company (A.B.C. Road Motors Ltd.) and raise new capital for motorcycle engine development.
"A.B.C. Road Motors, Ltd., has just been formed to manufacture and market the A.B.C. motor-cycle and cycle-car engines that were formerly manufactured by the All-British (Engine) Co., Ltd. The latter firm is concentrating entirely upon aeronautical engines, and has handed over the whole of the motor-cycle and cycle-car engine business to this company.
It is the policy of the new firm to concentrate the whole of their energies on road motors, as distinct from aero-engines, and they wish to point out that there is no connection whatever between them and the All-British (Engine) Co., Ltd.
In order to avoid confusion they will be glad if in future correspondents will address any communications on the matter of "A.B.C." motor-cycle and cycle-car engines to A.B.C. Road Motors, Ltd., Brooklands, Byfleet, Surrey."
The Aeroplane 16th October 1913, page 439
The new company was incorporated on the 18th of September 1913 and just a few weeks later Jack Emerson joined A.B.C. as the chief tester and rider (previously at Norton). It became clear that the motorcycle engine only fitted very few frames and this likely prompted ABC to start building complete motorcycles themselves. Development work on frame and engine must have kept everybody busy during that winter but, on January 13, 1914, the hard work paid back in classic glorious A.B.C. style: Jack Emerson broke the Class C and D flying kilometre and mile records. Previously held by Stanley on a Singer at 78.22mph and 76.69mph, Emerson reached speeds of 80.47mph and 78.26mph respectively. For this attempt the engine displacement was changed to 70.45mm x 64mm (499cc), the rocker gear lightened, and a streamlined tail was added, consisting of aeroplane canvas stretched over a timber frame and attached to the rear of the saddle. Having learned the lessons from the 1913 Senior TT, the engine was now using a more common two-throw crank as it appears the three-throw principle was discontinued. A newly designed frame made by A.B.C. was also introduced (likely the first motorcycle entirely built at the Brooklands motordrome) and the equipment was completed by Ruthardt magneto, Bosch sparking plugs, Lyso belt, and Hutchinson tyres.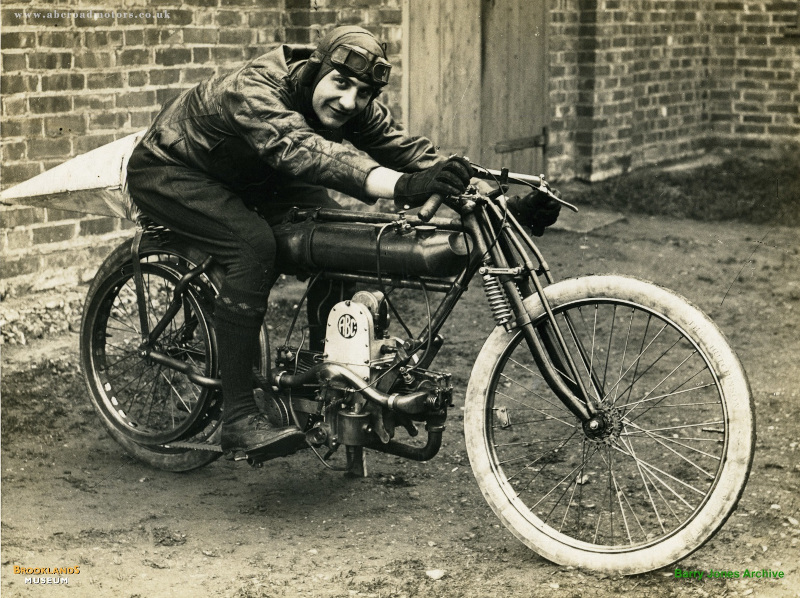 Emerson on the 499cc A.B.C. motorcycle after beating the kilometre and mile records - Curtesy of Brooklands Museum, David Hales Collection.
In March 1914, a new revised model was introduced, which differed in several major respects. A three-model policy was adopted, which consisted of the touring version with a guaranteed speed of 60mph, a T.T. model at 65mph, and the Brooklands model with a maximum of 70mph.
The touring model had parallel-sided cylinders, with detachable heads incorporating separate exhaust-valve chambers, the valve arrangement changing from overhead to side inlet and overhead exhaust.
The T.T. model retained the pear-shaped cylinders with overhead valves, as did the Brooklands model, which probably had lightened valve gear and drilled con-rods. A Best & Lloyd semi-automatic lubricator was also added to the oiling system, an undertray was standard to save mud and grit from liberally spraying the valve gear, as were twin exhaust pipes and silencers. A kick starter and footboards were optional and the Brooklands model was just available with single speed.
In his record attempts, Emerson found that the engine on the pre-production machine could run at 3718 revs per minute but a certain amount of speed was lost due to the belt slipping on the rim. As a result, 1914 models all had chain drive to the rear hub via a countershaft and three-speed Armstrong gear fitted just behind the engine rather than in the rear hub. Additionally, the frame had for the first time a feature for which A.B.C. became renowned through the years, namely the use of laminated springs at the rear.
These bikes were produced and sold in small numbers but soon appeared in sporting events, acquitting themselves quite reasonably, having a respectably high performance and vivid acceleration. In the Scottish Speed Championships, T.C.M. Bellairs won his heat and came third in the final on his machine nicknamed the "Pirate", and at the Oxford v. Cambridge Brooklands meeting in September, E.H. Lees won the first and third races. Emerson finished third in the Easter Monday short handicap motorcycle race and second in the 500cc One-Lap Sprint Race (both at Brooklands) while R.L. Keller lapped Brooklands at 53.34 mph in the Public School Races organised by the British Motorcycle Racing Club.
Four A.B.C. motorcycles were entered for the 1914 IoM TT races: two with standard touring model engines (overhead exhaust valves), one with the racing engine (all valves overhead) and one with a new 350cc 2¾hp flat twin (58½mm by 64mm). Emerson's 493cc bike was surprisingly fitted with two magnetos, streamlined exhaust pipes and a weird mascot on the carrier.
Wray didn't manage to qualify but Watson made it to the end even though he suffered several spectacular falls. Emerson instead rode both the 350cc and the 493cc bikes to the finish line and achieved a very promising 6th place in the Senior class which was worth a gold medal.
"On lap 2, Harrison Watson on an A.B.C. takes the bend at Quarter Bridge too wide and fast. He mounts the banking, which shoots up at an angle of 1-2, still sits his machine as it leaps in the air 4 ft. above the road, and then falls sideways crushed against the wall with the machine on top of him. Assistants help him to restart."
Motor Cycling 26th May 1914, page 99
| | | | | |
| --- | --- | --- | --- | --- |
| 1914 Junior TT Rider | Motorcycle | Rider Number | Final position | Result |
| J.L.E. Emerson | A.B.C. 350cc | 23 | 25 | Completed the race in 25th position, over 1 hour behind the winner |
| | | | | |
| --- | --- | --- | --- | --- |
| 1914 Senior TT Rider | Motorcycle | Rider Number | Final position | Result |
| J. Harrison Watson | A.B.C. 493cc entered by J. Harrison Watson | 95 | 45 | Finished 45th at more than 1 hour from the winner |
| Alfred Wray | H.G.-A.B.C. 493cc entered by G.E. Bradshaw | - | N/A | Broke down during practice and didn't qualify |
| J.L.E. Emerson | A.B.C. 493cc entered by A.B.C. Road Motors | 157 | 6 | Finished 6th at less than 15min from the winner |
With successes in competitions and the usual enthusiastic Press coverage, A.B.C. started planning for full scale production of their bikes with an expected output of 4,000 bikes per year from November 1914. Although there was no intent to leave the Works at Brooklands, larger premises to fulfil all their orders were considered necessary and a new company named A.B.C. Road Motors (1914) Ltd. was created at the beginning of June 1914 to raise new funding.
Charteris immediately started looking for adequate buildings and Bradshaw completed the first production motorcycle on the first week of June. Within a month, an agreement was reached for the purchase the old Faulkner's Foundry site in Hersham near Walton-on-Thames, new machinery was ordered and a move was planned during August. A contract was also signed with the Commercial Marine Company for production of 100 engines while the decision was made to manufacture frames in house and assemble the motorcycles at the Works.
Everything kept on proceeding better than expected and the A.B.C. riders kept on bringing home good results in competitions. Two bikes were even sent to France with Emerson and Lees entering the Motorcycle Grand Prix de France at Le Mans on August 15th. Lees also entered the International Six Days Trials on August 5th at Grenoble. However, these new Works turned out to be required sooner than expected since WWI broke out and Brooklands was taken over as a military flying ground in August 1914. The riders and their bikes were rushed home from France and all competitions ended.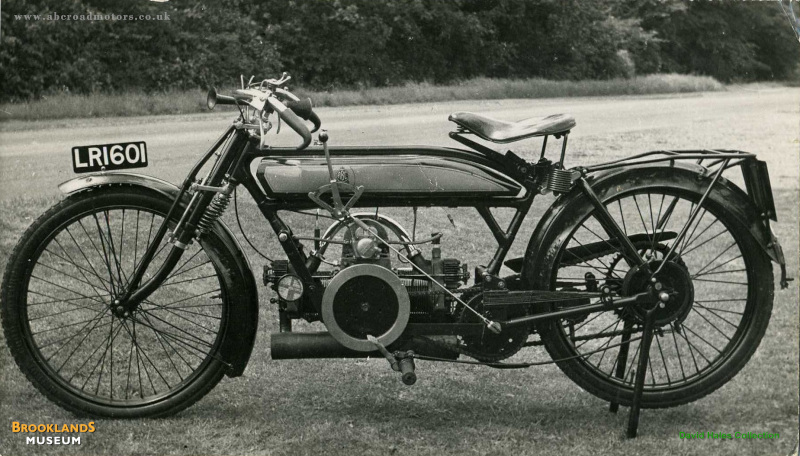 Bob Thomas early 1914 A.B.C. motorcycle with three speed Armstrong gear – Curtesy of Brooklands Museum, David Hales Collection.
Being a reservist since 1912, Ronald Charteris was called up into the Royal Flying Corps with the rank of Lieutenant and had to be replaced as the boss of the company by the then A.B.C. Assistant Managing Director: Henry Knox.
On the return to work on the 10th of August, Knox found out A.B.C. was being evicted from Brooklands and quickly agreed, in consultation with Charteris, to offer the Brooklands Works to the Government who accepted in just two days.
An estimate of £2,702 was soon submitted to the Department of War as a refund for all the material, tools and even furniture which had to be left behind: £1,700 for machinery and £1,002 for 4 weeks of inactivity and loss of business (later increased to £1,680 due to 3 extra weeks of delays). Unusually for the time, the War Office eventually accepted to pay and settled the compensation at £1,500 for the machinery and £500 for loss of business providing enough money to setup the premises and machinery at Hersham.
The new Works only restarted production in October 1914 and by that time Bradshaw had already designed a new 4 speed gearbox to overcome the lack of availability of Armstrong, which company went into voluntary liquidation a few months earlier. Bradshaw's idea was to give 3 good speeds when touring and one low gear to enable the machine to climb any hill under any condition (4 1/2, 6 1/4, 10, and 16:1).
The final product consisted of a car-type gearbox in phosphor bronze, operated by a lever in a gate fixed to the tank. Changes to fit the new gearbox to the frames were required and, by the end of November, this resulted in a new 1915 model being ready for road testing.
The new bike included an internal cone clutch faced with Raybestos, the outer steel member having teeth cut on it for the engine driving chain, and chain final drive was switched from the off-side to the near-side. Springing was modified and adjustable handlebars were fitted. The standard colour scheme became battleship grey and black, although if a customer wanted a specific colour, then, as in many other establishments, a new colour could be arranged even if it cost a few shillings extra.
A production of six motorcycles per week from December 1914 was expected but the inevitable change in priorities and constant lack of materials caused by the hostilities impacted all sectors of the company. In the end, only about twenty examples of the 1914 model and twenty or thirty 1915 models have likely been produced but there is no clear record to confirm how many really exited the factory.
To add to the misfortune, the government only showed interested in signing contracts with a very limited number of companies and these had to be capable of providing a high output of motorcycles and a proportionate number of spares. Scaling up the Works to achieve such production levels would have required significant investment for a small company like A.B.C. therefore the option was discarded almost immediately.
Knox advertised the bikes as far as possible and sent several to colonies like New Zealand or South Africa but he also spotted the opportunity to produce aeroplane engines which were considered to give greater profit for less manufacturing. The Admiralty soon submitted orders for evaluation of large radial engines and this restarted Bradshaw's interest in aero-engines.
Another stream of income came from the government's requirement for light auxiliary engines to be used for starting aeroplanes or pumping dirigible balloons. Before the end of 1914, Knox had sent for evaluation a couple of 6hp motorcycle engines and by May 1915 he proudly reported "the Works were entirely devoted to Government work" with orders from companies like Rolls Royce and Austin Motors.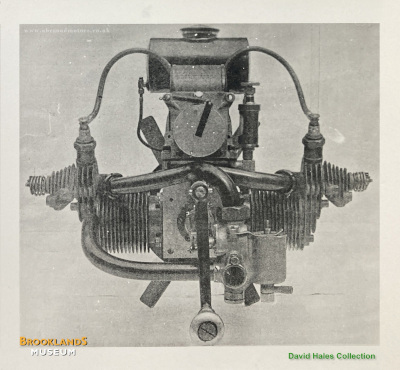 1915 - First World War auxiliary engine, the Firefly of 250cc
Curtesy of Brooklands Museum, David Hales Collection.
Around the same time, a special request was also received from Rolls Royce on behalf of the Air Department for smaller generator engines, half size edition of the motorcycle engine. This was the beginning of the remarkable high-speed Firefly engine: 248.8cc, bore and stroke 60x44mm, 4hp at 4,000rpm. Designed as an auxiliary engine, it was used for supplying power to portable wireless sets and searchlights via a dynamo, for pumping water out of the trenches and, with a sirocco fan fitted, for inflating airships with air. A few were also used experimentally with a four-bladed propeller to synchronise the firing of bullets through the prop.
The Firefly shared the horizontally opposed twin cylinder layout with the A.B.C. motorcycle engine, the steel cylinders were kept in line to reduce vibrations, roller bearings were used in the big ends and the crankshaft was carried on four ball bearings in order to keep its rigidity. Pistons and heads were made of cast iron but the real novelty were the overhead exhaust valves which were fitted as far away from the cylinders as possible. The correct amount of lubrication at any speed was provided by a mechanical oil pump set to run at 1-15th engine speed and fed by an oil tank located on top of the engine. A sight-feed lubricator was installed just for regulation and observation purposes while no sump was included because A.B.C. found that oil rapidly loses its qualities and it's best to lose it. A starting-handle attached to the camshaft completed the package and made starting easier.
Bradshaw strongly believed the high performance of this engine was due to the position of the exhaust valves which resulted in better cooling and, in Bradshaw's view, it could reach a speed of 10,000rpm if finely tuned. Apparently, the engine was left in the test shop for two or three hours at full throttle and, on returning, the indicated speed was 8,000rpm. This caused no harm to the engine but the sirocco fan was no longer there. It had disappeared, making for itself a large hole in the roof.
An order for 100 of these 248cc engines was received from Lyon & Wrench but a total production figure is unknown and likely somewhat higher.
While business started to look promising, the company financials were not yet great, more machinery was required to keep up with the demand and funding was running out. Luckily, two employees (M.V.F.M. Oliver and the A.B.C. rider Edmund H. Lees) were persuaded to invest in the company. Lees alone purchased £1,300 in shares and gained the right to join the Board of Directors. Additionally, he negotiated to be placed in charge of the Repair Department and his salary increased from £125 to £150 p.a. He kept the Director position for two years but then failed to digest the fact A.B.C. agreed to produce shell parts for the Minister of Munitions. In a Board of Directors meeting, he loudly described shells as "lethal weapons". Charteris and Noel could not put up with his "views antagonistic to the British policy of entering the war" and the inevitable argument resulted in Lees' immediate resignation.
In mid-1915 Charteris had returned injured from France where he served as a Flight Commander and this event coincided with the resignation of Knox who likely had greater career ambitions. Charteris therefore took the opportunity to introduce a few changes in the company structure and a dedicated full-time Secretary (Thomas Andrew Dennis) was promptly appointed. The decision was also made to restructure the company, change the name to A.B.C. Motors Limited and raise new funding for the development of powerful aero engines. This was soon supported by an investment of £6,000 by the Sopwith Aviation Company which eventually became the largest investor in A.B.C.