Page 3 of 8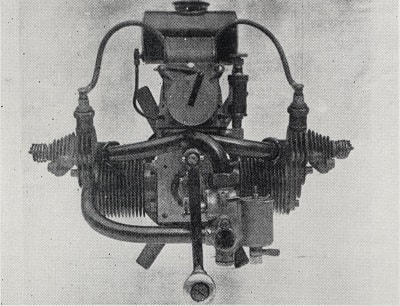 First World War auxiliary engine of 250cc, 1915
These bikes were sold in some numbers, and soon appeared in sporting events, acquitting themselves quite reasonably, having a respectably high performance and vivid acceleration. In the Scottish Speed Championships, T. C. M. Bellairs won his heat and came third in the final on his machine nicknamed the "Pirate", and at the Oxford v. Cambridge Brooklands meeting in September, E. H. Lees won the first and third races. With successful competition and the usual and enthusiastic Press coverage, A.B.C. had to think of moving to larger premises to fulfil all their orders, and agreed to purchase the old Faulkner's Foundry site in Hersham near Walton-on-Thames. However, this site was required sooner than expected since Brooklands was taken over as a military flying ground in August, 1914, and A.B.C.s lost all their workshops and equipment into the bargain. Once installed in the new and hurriedly constructed factory, the company were asked by the Government to concentrate on experimental work in the aero-engine field, and in particular on an electrically-controlled aerial torpedo.
Being a reservist, Ronald Charteris was called up into the Royal Flying Corps with the rank of Lieutenant and was absent from much of the company business for several months. By the time he was able to return in 1915 to a company making auxiliary engines for War Office contracts, he had the title of Captain.
Before any aero engines were designed, Bradshaw announced the modifications to the 1915 model motor cycle. Towards the end of 1914, a Montgomery sidecar outfit was attached to the bike, but with the additional weight the gear ratios proved rather unsuitable, and partly because of this Bradshaw set about not only revising the ratios, but completely redesigning the gear. The result of these deliberations was incorporated into the 1915 model, and consisted of a car-type gear-box in phosphor bronze, with four speeds (4 1/2, 6 1/4, 10, and 16 : 1), operated by a lever in a gate fixed to the tank. Other changes included an internal cone clutch faced with Raybestos, the outer steel member having teeth cut on it for the engine driving chain, and chain final drive was switched from the off-side to the near-side. Springing was modified and adjustable handlebars were fitted. During this time the standard colour scheme had always been battleship grey and black, although if a customer wanted a specific colour, then, as in many other establishments, a new standard colour could be arranged even if it cost a few shillings extra. Due to hostilities, the number of bikes produced began to fall, and those that were delivered went mainly overseas to India, Australia, Italy, or South Africa for competition work, or to France or Egypt for use in the services. The last bikes of this type were made in 1916, and had enclosed kick starters, double cush drive (a type of transmission shock absorber) and twin rear brakes operated from the handlebars and by a foot pedal. Notable performances overseas included the Morcam brothers in South Africa in events organised by the Maritzburg Motor Cycle Club, winning several cups and certificates for first and second places in speed trials and hill climbs.
Even as early as the making of aircraft engines it soon became obvious that the tiny ABC concern did not have the manufacturing capability to produce complete engines, so other companies had to be engaged to supply either castings, parts or even complete units, and Armstrong Whitworth certainly were amongst the early companies used to produce the V-8 aero engines. The same applied to the 500cc motorcycles, the Great War auxiliary engines, the Gilbert Campling built Skootamota and subsequently the post-war Sopwith built 398cc motorcycle.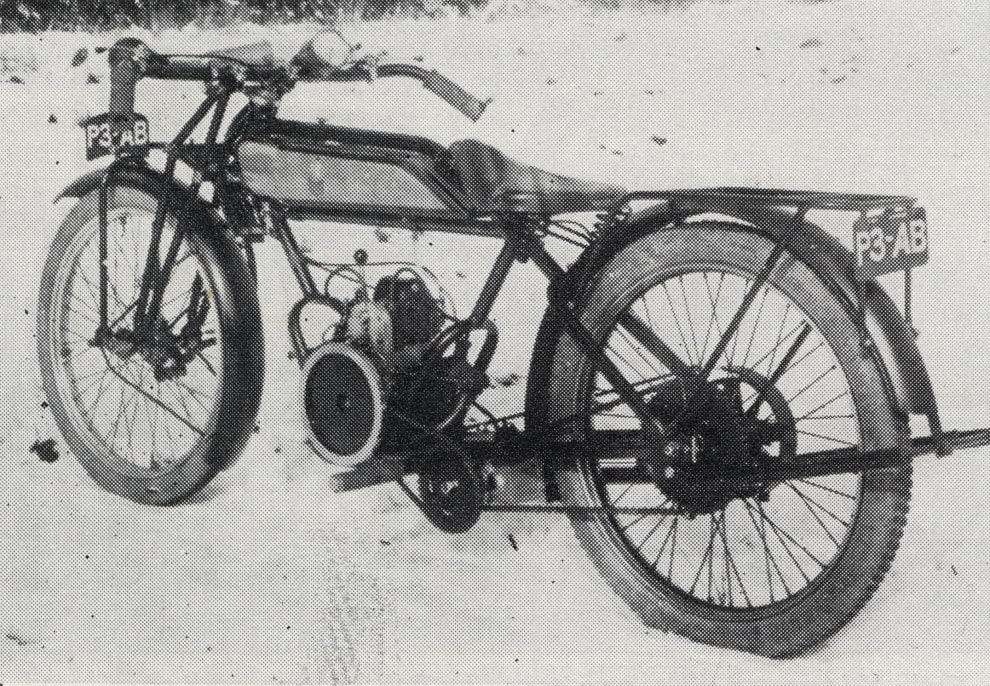 Experimental 250cc motorcycle,1916, with two speed Albion gear
The war effort saw the start of code names for the various types of engines, the first of these being the "Firefly", a 250 c.c. horizontally-opposed twin on the same lines as the motor cycle. Designed as an auxiliary engine, it was used for supplying power to portable wireless sets and searchlights via a dynamo, for pumping water out of the trenches and, with a sirocco fan fitted, for inflating airships with air. A few were used experimentally with a four-bladed propeller to synchronise the firing of bullets through the prop. The intended running speed was between 3,000 and 4,000 r.p.m., but again, as an experiment, one was tested with its fan still in place to find out what the maximum speed was. This was left in the test shop for two or three hours at full throttle, and on returning the indicated speed was 10,000 r.p.m., apparently causing no harm to the engine. However, the sirocco fan had disappeared, making for itself a large hole in the roof. By March, 1916, one of these units had found its way into a motor cycle frame and, using a two-speed Albion gear, was capable of 37 and 48 m.p.h., although it was stated that this could be bettered by designing more suitable camshaft and frame. Production would be started after the war.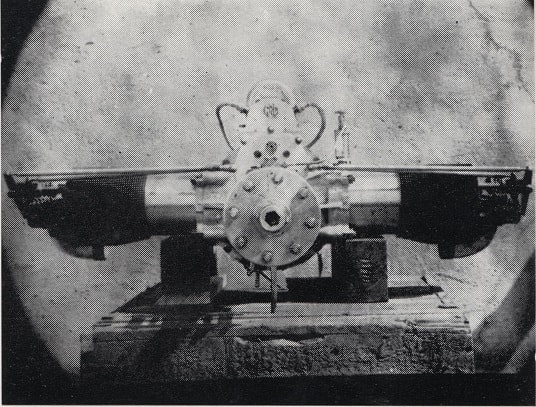 A.B.C. "Gnat" engine, 1916
The next engine off the drawing-board was the "Gnat", again a horizontally-opposed twin, this time of just over three litres capacity, developing 45 h.p. at 1,800 r.p.m. This was installed in the Sopwith Sparrow, and with radio control gear was taken to Laffan's Plain, near Farnborough. The order was given to start the engine, and the radio control panel, the work of Professor Lowe, was checked to make sure the desired signals were reaching the aircraft. All the military bigwigs stood waiting for the word to go, and expecting great things of what would prove a very useful weapon. The time came for the first flight, and the Sparrow started gaining speed across the grass. Fortunately, on this test run, the designed load of bombs was not being carried, the signals taking far too long to reach the craft. Frantic turning of controls merely sent the plane careering all over the place, generally in the direction of the portliest of the assembled bigwigs, and the machine eventually came to rest after running out of its gallon of fuel. Apart from this occasion, little was heard of the "Gnat" for the remainder of the hostilities.
Two unsuccessful designs followed the "Gnat". Firstly, Jack Emerson tried converting his motor cycle to run on paraffin, and secondly Harry Hawker bet Bradshaw that he could not design a radial aero engine with an even number of cylinders. Bradshaw took up the challenge, and using six Gnat cylinders on a common crankcase, brought about the "Mosquito", which not only had an even number of cylinders, but fired 1, 2, 3, 4, 5, 6. It did, however, prove unsatisfactory for production purposes.
Next in the story come two ill-fated aero engines. The seven-cylinder radial "Wasp", with bore and stroke of 4 3/4 in. x 6 1/4 in. and rated at 160 h.p., was developed for fighter aircraft. Prototypes made from Bradshaw's designs by the Selsdon Engineering Co. Ltd. were fitted to Sopwith Snail, Salamander and Snipe aircraft, the latter with full fighting equipment achieving a maximum speed of 156 m.p.h. and climbing to 10,000 ft. in 4 1/2 min. In practice, although attaining a high degree of manoeuvrability, they proved somewhat under-powered, and an engine in excess of 300 h.p. was asked for. This request caused the "Dragonfly" to be built, a nine-cylinder of 320 h.p., the first of these being constructed by Guy Motors in 24 days. This was in February, 1918, and 14 more were made and put through preliminary tests in aircraft. At this time the Government were considering the best engine to put into mass production for the 1919 war programme, and having boobed previously by not including engines in the design or test stage, they did not wish to make the same mistake again. With this in mind, and the A.B.C. engine only just off the drawing board, they took some time in making their decision. The "Dragonfly" certainly looked the best on paper, so the final result was that over 11,000 were ordered. By the time the Armistice had been signed, only 14 were installed in aircraft, and over 1,000 engine units had been finished. Thirteen companies, listed below, had been involved with "Dragonfly" and, of the aircraft tested, the majority decision was that it was an unreliable engine. For this, Bradshaw claimed that certain alterations to the specification had been made by some of the manufacturers:
| | | |
| --- | --- | --- |
| Beardmore Aero Engines Ltd | 1,500 | engines |
| Crossley Motors Ltd/ | 1,000 | " |
| Ransome, Sims & Jeffries | 500 | " |
| F. W. Berwick & Co. Ltd. | 1,000 | " |
| Belsize Motors Ltd. | 1,000 | " |
| Maudslay Eng. Co. Ltd. | 500 | " |
| Vulcan Motor & Eng. Co. Ltd. | 600 | " |
| Vickers Ltd. | 1,000 | " |
| Sheffield Simplex | 500 | " |
| Guy Motors | 600 | " |
| Clyno Eng. Co. | 500 | " |
| Ruston, Proctor & Co. Ltd. | 1,500 | " |
| Humber Ltd. | 850 | " |
| | 11,050 | " |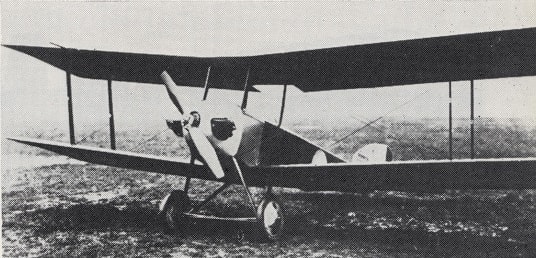 Radio-controlled Sopwith "Sparrow", with "Gnat" engine, Laffan's Plain, 1916. - Courtesy of Imperial War Museum
Production engines were heavier than the initial design, developing less power and vibrating badly. When flown, the aircraft were usually dogged by mechanical failure within a few hours. Even after revised pistons and cylinder heads had been designed and fitted by Prof. A. E. Gibson and S. D. Heron of the Royal Aircraft Establishment, the engine suffered from imbalance and synchronous torsional vibration, and to overcome this a complete redesign of the engine would have been necessary. When orders were cancelled, 1,147 engines had been made, of which 23 had been delivered up to the end of 1918, although production continued into 1919.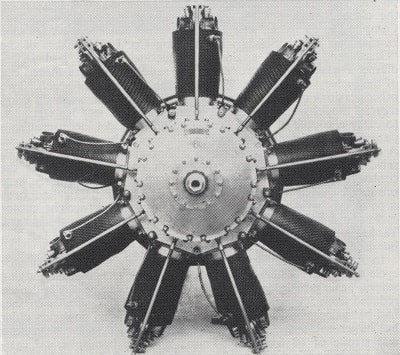 A.B.C. "Dragonfly engine, 1918
Aero engines was not the only aspect occupying Bradshaw's mind during the war. As far back as 1913, when the 500c.c. motor cycle engine was introduced, it was stated that a similar but larger version would be made for cycle car work. That year a capacity 900 c.c. was envisaged, and a combined fan-cum-flywheel would be used so that the complete power unit could be enclosed. In 1917 the engine grew to 1,094 c.c., a suitable gearbox had been designed, and so had an A.B.C. carburettor as described in April 1917 in an article on Motor Cycling and Light Car in June of the same year. By 1918 the transmission was said to be by friction discs, with final drive by chains (supposedly based on an American system) and quarter elliptic springs all round. A price of 100 guineas was mentioned. In 1919 the whole thing grew up to become the light car, of which more anon.
Before the war Bradshaw's most successful engines had been the horizontally-opposed twins. From 1917 onwards, the tendency was to concentrate on radials, so it is not altogether surprising to find him, like A. W. Reeves of Enfield-Allday, designing a radialengined car. This was to have had a five-cylinder engine mounted in a cowling similar to an aircraft, driving through a four-speed epicyclic gearbox incorporated in the flywheel, to a hinged rear axle with transverse quarter-elliptic springs as used on Sopwith aircraft.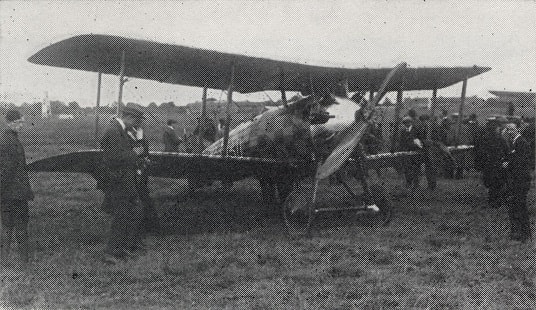 Nieuport L.C.1 with "Dragonfly" engine, 1919. Bradshaw is facing camera at right. - Courtesy of Flight
Each half of the axle to have its own crown wheel, which would be driven by a communal bevel-ended prop shaft. Cone brakes were to be fitted, and the whole lot would be mounted in a tubular-framed chassis. To facilitate easier maintenance, the engine would be turned through 72 degrees to service each cylinder, and it was suggested that cheap stamped parts be used, which would be replaced fairly frequently, instead of maintaining an initially expensive item. Had other war-time developments been more successful, this novel 100 h.p. sports car might have reached the prototype stage, but as it was the design was shelved as an A.B.C. white elephant.
Meanwhile, it seems that an ABC subsidiary company, Walton Motors Ltd, formed in 1917 to concentrate on government contracts for aero engines, was instrumental in obtaining various parcels of land and premises close to their Hersham works, not least in August 1918 acquiring Hersham Lodge on Molesey Road, a mid-19th century mansion with seven acres of grounds and parkland suitable for converting to quite opulent offices with the possibility of building a large factory opposite the existing works off the Old Esher Road, Hersham.