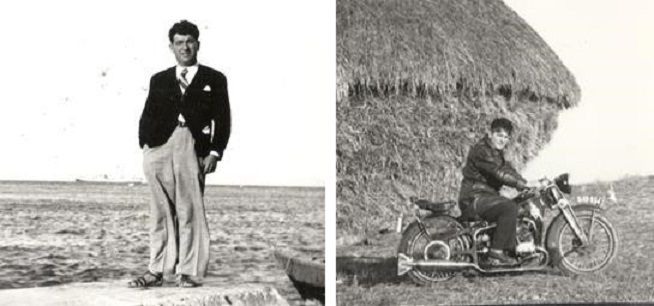 André Barthelemy. The motorcycle shown here is a 750 type X Gnome & Rhône
André Barthelemy is one of those extraordinary characters who are passionate about both machining and beautiful motorcycles. These wizards, like Nougier in Bourg Saint Andréol at a later period, are able to build marvels that come straight from their imagination. Nothing stops them: casting, moulding, machining, sheet metal work, adjusting – they can do it all.
Unfortunately we know very little about this fascinating man. I know of very few testimonies. François Houy, who died in 2004, gave one. François, whose father had owned two ABCs, visited Barthelemy's workshop with his father as a young lad. François said that he had a lot of engines but no motorcycles. He also said that Barthelemy made parts to fit an enclosed rocker arm on ABC engines. François always said that the Barthelemy ABC that "Nounours"(Teddy) had, was not a motorcycle assembled by Barthelemy himself, but that he had only done the mechanical part. It was difficult to stand up to François on that subject. However, since then, we have found more photographs and documents that prove the opposite, and one must believe that it was indeed Barthelemy who was behind the surprising and superb creations that we are going to describe in this article.
Some time ago I found another direct witness of Barthelemy's life. It is one of his former neighbours, Michaux Christian, whose brother, now deceased, was a great admirer of the man. André lived in Vitry sur Seine, 13 Impasse Jean Jacob, and his workshop was in the 13th arrondissement of Paris near the rue de Rungis.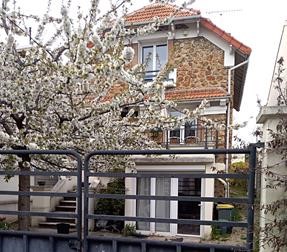 André Barthelemy's old house in Vitry sur Seine.
Christian told me that André was a former army officer. He even said he was a squadron leader who was extremely exact in his way of behaving and expressing himself. Christian said he was a strict, gallant man with a big heart, and that his wife was deaf and dumb. The couple had no children. He was very "old style". Christian, who called him father Barthoche, said he had no qualms about banging his fist on the table in order to be respected. He was a big strong hulk of a man.
J B Dolly, who is well known in vintage motorcycle circles, was out strolling with his partner looking for small picture frames, when he happened on frames with several photographs. Jean-Bernard was intrigued to see the ABC logo, he bought the frames and the photographs which have considerable historical value, contacted me to analyse them and kindly let me have them. What were these pictures doing in Auvergne I wondered for some time? Then I learned from Christian that another neighbour of Barthelemy's, M. Sabatier, came from the region. But the mystery still remains.
André Barthelemy was a stickler for cleanliness. He couldn't bear any traces of engine oil on a motorcycle, and this was to become the thread that underpinned all his modifications. His main source of income was as a well-known specialist of flat twin repairs, more particularly on ABCs in a first stage. Later, as he was still working for Gnome & Rhône, repairing CV2 and X types. He was also credited with improving the oil tightness on the D4 model of which I own a cylinder head.
His garage was called "The ABC of the motorcycle"
One thing leading to another, he worked wonders on the ABC's prize engines which he was so familiar with. Up to the middle of the 1930s he reconditioned and improved this top-quality engine, which to this day holds its own. To do this he added some customised modifications.
André's motto was "For your sake, build a clean/your very own bike (there is a play on words here as in French "propre" means both "clean" and also "your very own"). With that he meant that your bike must be your own personal one, a bike like no other, reliable, efficient, perfectly clean, without any leaks. A machine that must be as intriguing as possible, so that people turn their heads round to look at it.

His motto is posted in his workshop.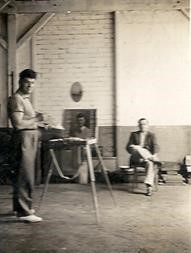 He was also a painter.
André was an artist in every sense of the word. He spent a lot of time painting, with an inclination for female nudes. Christian Michaux found them a little risqué.

In André Barthelemy's workshop there was nothing lying around. Everything was in its place and the tools he had enabled him to tackle any technical task required to build a motorcycle; a lathe, a drill, a milling machine, as well as anything to do with electrics and wireless radios.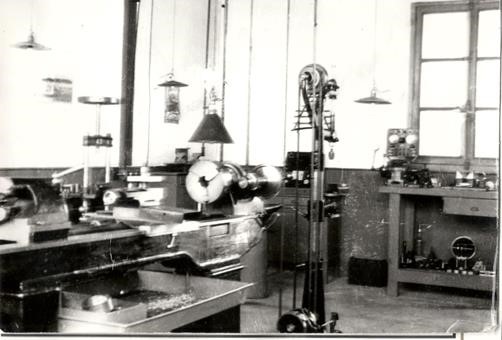 André Barthelemy's workshop. On the wall the only photograph is that of a Flying Flea.
The Barthelemy brothers were keen on Flying Fleas although there is no evidence of any family connection.
It is true, André did not build motorcycles from scratch. He started off with a good make. The frame had to have a double loop. As to the engine, as he was an ABC specialist, he kept to an area that he mastered perfectly, adding his own "touch"
His first creations were built using the second generation ABC as a base, i.e. a machine that came straight from the factory, with an oil tank fitted to the underside of the engine, and cooling fins. This engine was fitted to factory models from 1922 onwards. The advantage of this version is that it uses an automatic mechanical pump that guarantees adequate lubrication.
He modified the engine substantially: the distribution and rocker arm were completely redesigned, machined and enclosed, so were the valves. The con rods were lengthened by 5cm. The cylinders were machined from a steel billet and each cylinder head was fitted with an independent carburettor. Careful adjusting of all surfaces and meticulous assembly meant that the engine block was absolutely devoid of any seepage or oil leaks, which was quite rare at the time. But it fits the slogan about having a clean motorcycle.
Two crash bars sturdily mounted on the frame protected the cylinder in the event of a fall. The exhausts used drastically reduced the noise levels which are notorious on production ABCs.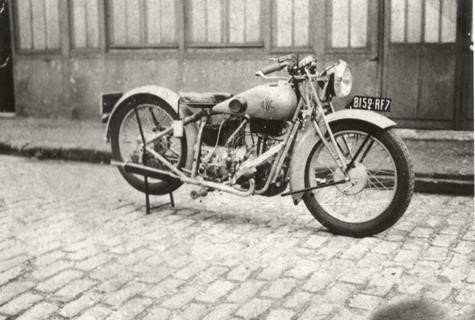 One of first examples of a Barthelemy ABC
At the beginning of 1935 the motorcycle that you see pictured above with its azure blue tones was presented under the ABC brand name at the Maison de la Moto.
Here is the reaction of the Moto Revue tester who wrote an article in the journal on 6th July 1935:
"Now let's see how well this beautiful machine behaves on the road.
Kick start with the choke closed, the engine starts with a barely audible purr. First gear, some throttle and all at once the engine revs up so fast that as soon as you accelerate, you have to change up.
As to riding comfort: the tyres are quite thick, there is a good saddle, the forks are efficient and make it comfortable for the rider. The controls are accessible and smooth and the efficient brakes add to the pleasure of the ride.
The overall presentation of the motorcycle has a beautiful finish. The mat grey aluminium factory produced sump casing, the chroming, the black cylinders and the high standard paintwork give the machine an aspect that matches its technical qualities."
Amongst André Barthelemy's various machines we can mention the one described in the Moto Revue journal article of July 1935, and which we can see on the platform in the background in the assembly shop.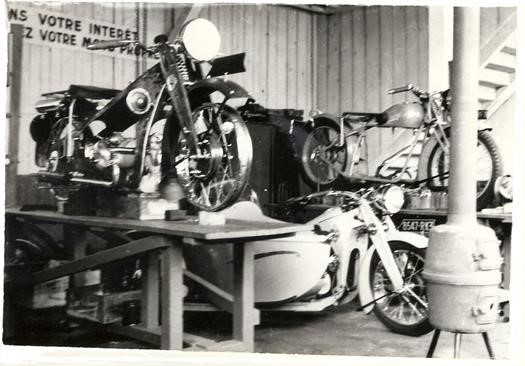 Photograph of the assembly shop. In the background the machine mentioned earlier.

In the photograph you can clearly see a motorcycle with a pressed steel frame built on a New Motorcycle machine and in the middle a 750 Gnome & Rhône type X with Barthelemy modifications including a wireless radio in the sidecar. The attention to detail goes to the extent that the supports for the saddle are mounted on ball joints so that the springs are not subject to side loads. The innovations include an electric start, a special distributor, an oil radiator and filter, a tyre inflator and you can see the oil tanks fitted to the underside of the luggage rack.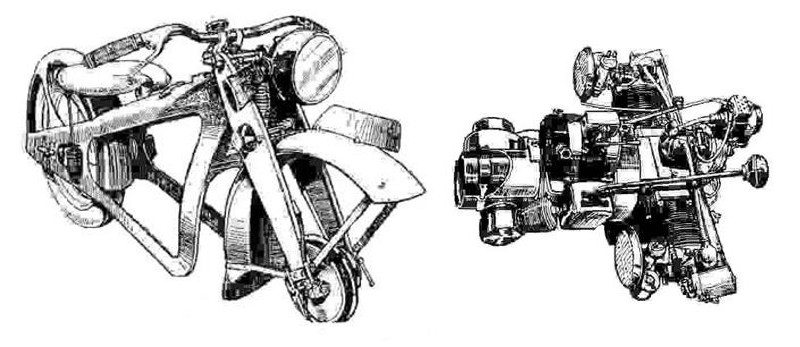 Sketches published in Moto-Revue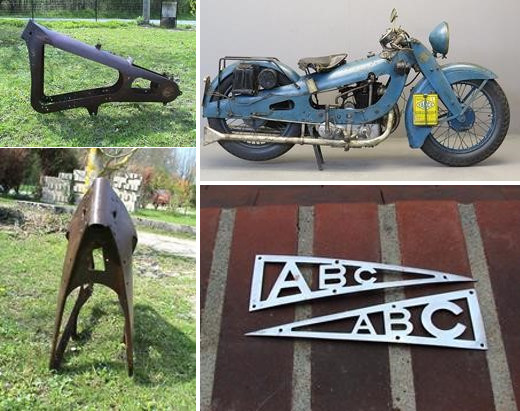 Anticlockwise: Frame modified by Barthelemy - Front view of the frame - ABC badge on the frame - New-Motorcycle as standard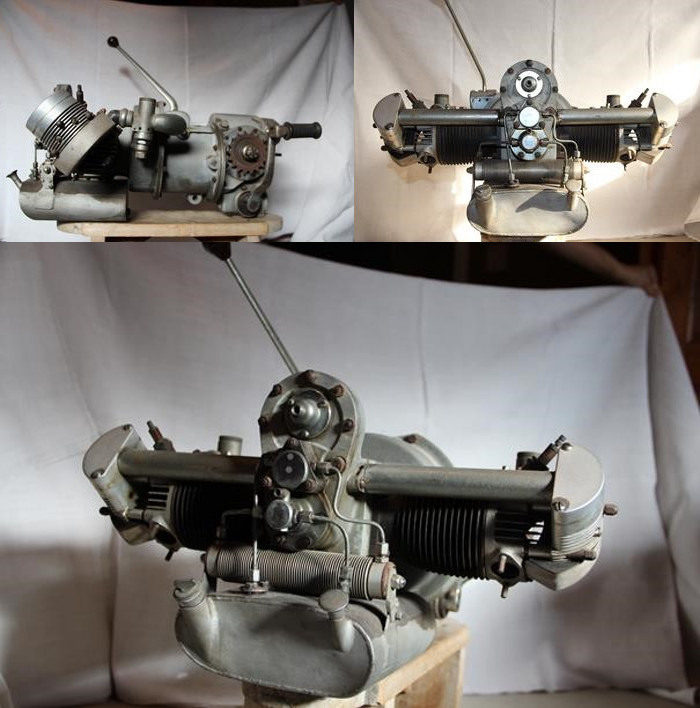 Current photos of the engine
The owner, Jean Michel Laborie has done some research on André Barthelemy. I have no doubt that he will share with us the discoveries he has made. I was hoping to receive them before I published this article.
We know that there is another machine built by Barthelemy and which has stood out in current presentations of vintage motorcycles. This beautiful machine belongs to our friend "Nounours". He has been lovingly caring for it ever since it was found in an auto jumble. This particular motorcycle was built from a modified CM2 Gnome & Rhône. The engine has bronze cylinders heads.

Nounours' Barthelemy ABC when it was found and today.
In 1936 André Barthelemy rode in a sidecar, a 750 X Gnome & Rhône in which he had fitted a wireless radio.
We know that there is a photograph picturing this beautiful Majestic fitted with a 750 Gnome & Rhône Type X. There is nothing to indicate that the machine was built by Barthelemy, but many details suggest it.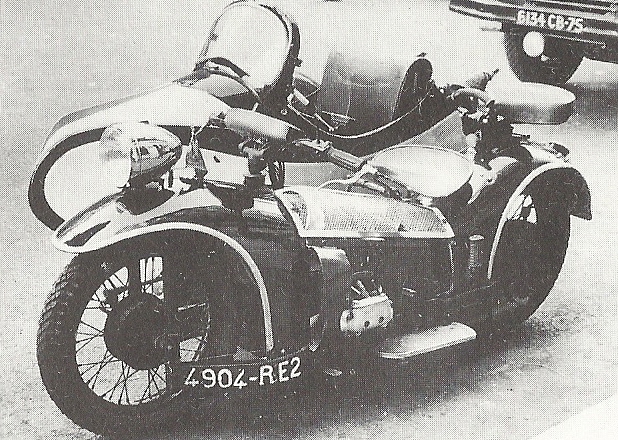 The Majestic Gnome & Rhône. The link to Barthelemy is not confirmed.
One of Barthelemy's neighbours was a steam engine enthusiast and introduced him to this new adventure.

Two photographs of Barthelemy taken between 1966 and 1972, before the locomotive arrived at the AJECTA (the locomotive had the connecting rods taken off the cylinders to help with transport). Serge Kottmann, a great specialist in locomotives tells us a little more about this one.
This is a steam locomotive with standard track width (1435 mm). It is number 3032 and named "RIMAUCOURT". It is of the 030T type (0 load bearing axle at the front, 3 engine axles in the middle and 0 load bearing axle at the back. T for tender because it transports its own water and coal)
It was built by the "Société de Construction de Batignolles", previously named "Etablissements Ernest Gouin", on the 5th May 1887.
It was part of a series of three locomotives commissioned by the "Société Générale des Chemins de Fer Economiques" for the 20 kilometre-long "Gudmont to Rimaucourt" line and started operating on 1st July 1887 on the Upper Marne network.
When the network stopped operating in 1951, the locomotive was transported to the workshop in Gray (Haute-Saône, Bourgogne-Franche-Comté) to be reconditioned. In 1953 it was bought by the sugar works of Nangis (Seine-et-Marne, Ile-de-France) which ran it until 1965.
It was saved from being scrapped by an enthusiast who exhibited it in the gardens of Lagny.
In June 1972 it was transferred to the "AJECTA" (Association of young enthusiasts for the maintenance et conservation of vintage trains) collection in Longueville (Seine-et-Marne, Ile-de-France) and reconditioned. Its cab was rebuilt and it was then used for historic events and classified as a "Historic Monument" in 1987.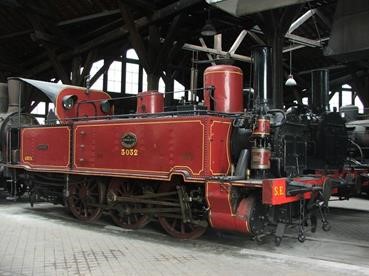 Today it is a static exhibit as its boiler is in need of repair.
André Barthelemy also dabbled in aeroplane engines, with the same constant aim: to limit oil leaks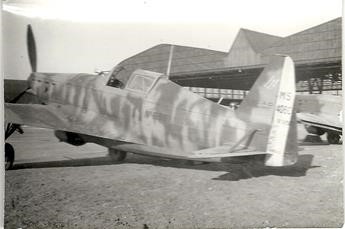 Morane Saultier with a Lorraine engine (photograph by Barthelemy).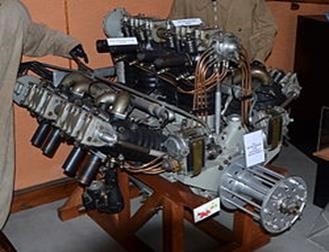 12 EB Lorraine engine (Wikipedia photograph).
We are extremely interested in any new finds. Please do not hesitate to contact us.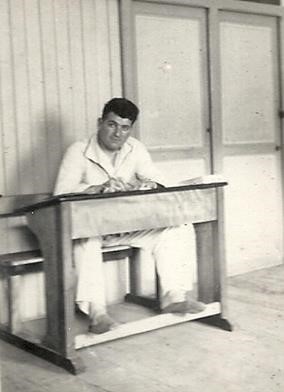 Daniel DAVID
Kindly translated by Monique Adam and Richard Johnson