As a young lad I sometimes attended Christmas parties for the children of employees of the Hackbridge & Hewittic Electric Company Limited where my father worked. I well recall whenever he was out and about at weekends or in school holidays for repair work on rectifiers and transformers, that he would ask if I would like to come along, which I do not remember ever refusing as it not only involved travelling to somewhere I had not been before, but also took me to some interesting places like gasworks, or cinemas, the latter being a favourite as I could watch the films from the projection room.
If I went with him to his office at Hersham in Surrey this may have included the factory, the drawing office, or the MD's office in the big old house. Some years later I developed that disease vintagecaritis, and when at school acquired a 1927 Austin 7hp from the local scrapyard in Ewell. I sold the Austin to someone who wanted a car for their children to drive around the orchard as I had bought a 1923 Rover 8hp, which became my first transport in which to go to work. There followed a 1927 Fiat 509A coupe, and then a really nice Speed 25 Alvis with Charlesworth drophead coupe coachwork.
After my father died in 1965 I had to sell the Alvis and it was a few years before I took up the reigns of being a vintage car owner again. I saw an advert in 'Motor Sport' for a 1926 ABC Supersports, somewhat hidden behind the headline car which was a 1929 black label Bentley. Since the ABC had been made only a few miles from where I lived this was an added attraction, apart from it being one of those rarer birds, a sporting vintage light car.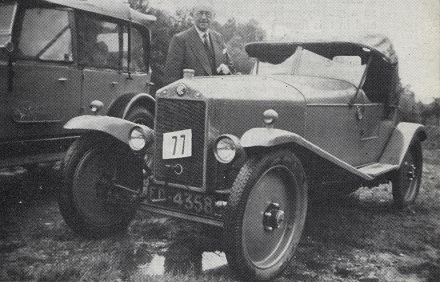 D.A. Hales ABC Supersports model as owned and restored by G.de Jongh. Granville Bradshaw is standing behind the car. - Courtesy of G.de Jongh
Having acquired the car by late March 1968, I wished to find out more on ABC cars and the company that had made them which at that time still operated in Hersham opposite my father's old works. I got to meet numerous staff at the factory who had been there from the 1920s and also visited several more who lived locally but had retired years before. I borrowed the company scrapbooks and handbooks during 1968/9 when I started researching the history of the company, which was eventually published in the old 'Veteran & Vintage Magazine' in September/October 1970. The company had become a subsidiary of Vickers Limited in September 1951 and when Vickers closed the Hersham works in 1971, ABC's MD, whose father had been Company Secretary from 1915, offered me these items on a permanent basis as Vickers would not be interested. What you see here is an update on the car part of that article and includes extracts from the minutes of ABC Road Motors (1914) Limited that came to light some years later.
The origins of the ABC Company started in 1909 when Ronald Louis Charteris put in finance to Walter Lawson Adams' company at Redbridge near Southampton. Adams had been making marine and later aero engines at the Redbridge Motor Works, whilst a 15hp V-twin was fitted to a hydroplane in 1909. By that time however he had become more interested in aircraft engines, forming W L Adams Ltd to pursue such interests. Charteris was the grandson of the 7th Earl of Wemyss and March, was a keen early aviator and at the time he joined Adams, the company name was changed to the Aeroplane Engine Company with work commencing on a V8 engine of 88hp, although there is no evidence that it was ever completed. In the latter part of 1910 Granville Bradshaw joined the team having previously been with Star in Wolverhampton working on a monoplane for that company. Designs then came from both Adams and Bradshaw for the Aeroplane Engine Company's aviation units, whilst Bradshaw also pursued technical development of aircraft design. The company name was again changed since all partners were probably aware of cash rewards being offered to constructors of aircraft of all-British manufacture, so Bradshaw suggested the All British Engine Company, which by the latter part of 1912 was generally being referred to as ABC, so the Engine part of the title was subsequently printed in brackets. By this time W L Adams had left as he must have found working with Bradshaw something of a prickly experience, taking with him the V-8 aero engine design subsequently developed by W H Dorman & Co Ltd of Stafford.
Only three years after the company was formed they had moved to Brooklands and became involved with Bailey's record attempts with his Douglas motorcycle. This caused Bradshaw to start the design of an ABC motorcycle engine which would supposedly fit most frames and in an article in Motor Cycling for 14th January 1913 describing this engine, it was also mentioned that there could be a 900cc flat twin suitable for a cyclecar, not that the company had any serious intention of making one themselves, rather that it might be an opportunity to supply it as a proprietary unit to others. As for the motorcycle engine, because it only fitted very few frames ABC started to build complete motorcycles themselves from 1914. This potential increase in manufacturing or assembly capacity caused the company to think about larger premises and the company title was changed yet again to ABC Road Motors Limited, whilst by the time production was being considered in June the name had become ABC Road Motors (1914) Limited. When Brooklands was taken over as a military flying ground in August 1914, the company needed to vacate their premises but had more or less agreed to purchase the old Faulkner's Foundry site in Hersham, so several hurried weeks saw them converting property and installing new machinery. Being a reservist, Ronald Charteris was called up into the Royal Flying Corps with the rank of Lieutenant and was absent from much of the company business for several months. By the time he was able to return in 1915 to a company making auxiliary engines for War Office contracts, he had the title of Captain.
Even as early as the making of aircraft engines it soon became obvious that the tiny ABC concern did not have the manufacturing capability to produce complete engines, so other companies had to be engaged to supply either castings, parts or even complete units, and Armstrong Whitworth certainly were amongst the early companies used to produce the V-8 aero engines. The same applied to the 500cc motorcycles, the Great War auxiliary engines, the Gilbert Campling built Skootamota and subsequently the post-war Sopwith built 398cc motorcycle.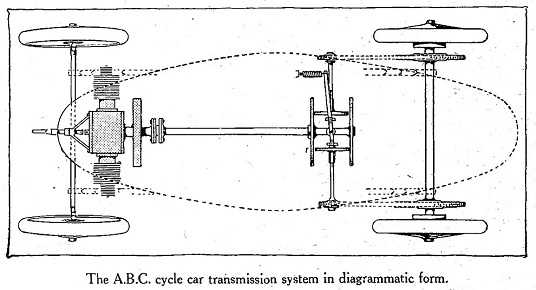 Diagrammatic representation of the cycle car showing friction drive. The MotorCycle, December 5th 1918.
Any further mention of the cyclecar was not forthcoming until April 1917 when Motor Cycling carried an article on a 1094cc flat twin with exhaust over inlet valves and Light Car in June suggested this would perhaps be for a post-war car.
Meanwhile, it seems that an ABC subsidiary company, Walton Motors Ltd, formed in 1917 to concentrate on government contracts for aero engines, was instrumental in obtaining various parcels of land and premises close to their Hersham works, not least in August 1918 acquiring Hersham Lodge on Molesey Road, a mid-19th century mansion with seven acres of grounds and parkland suitable for converting to quite opulent offices with the possibility of building a large factory opposite the existing works off the Old Esher Road, Hersham.
After the end of hostilities late in November 1918, there was a sudden influx of activity for non-aviation products, and the minutes refer to the 1100cc engine being completed, but the chassis was barely at the experimental stage. It was suggested that the Hersham works could produce around thirty cars per week once it was on a production basis. With this in mind the company was in negotiations for 400 1100cc cyclecar engines with Gillet Stephens & Company, who had been involved with the auxiliary engines during the war, whilst a diagrammatic chassis layout was produced in Motor Cycle for 5th December 1918 showing a transverse flat twin engine, friction drive transmission and chain final drive to each rear wheel. The engine in some reports was now suggested to be 1200cc and by mid-January 1919 the company had received orders for 277 light cars with deposits totalling £1385 (£5 per car).

There was also mention of the big car in the minutes, for which development work would continue on a spasmodic basis as to not interfere with the cyclecar as it was then still termed.
The big car was to have used a 100hp five cylinder radial engine mounted at the front of which the engine could be rotated to maintain each cylinder but as it happened, development does not seem to have got any further.
Early in February both Country Life and Light Car & Cyclecar reported that the car would have a four speed gearbox with bevel final drive and that the cars would likely make an appearance by the end of May 1919. 1000 light car chassis were ordered through Selsdon Engineering Company Ltd early in April (another outlet for Gilbert Campling), but by the middle of that month Selsdon were saying they could not entertain the manufacture of complete chassis but would entertain making the gearboxes.
Good publicity was gained late in April and early May with both Light Car and Cyclecar and Autocar carrying articles on the new ABC light car with an artist's impression of the car and line drawings and photos of the engine, which was great for potential customers, but as we are seeing nothing yet had been finalised regarding its production by the company which would require some form of restructuring.
Towards the end of May 1919 the company was in negotiations with a Mr Metts of Gillet Stephens, which resulted in a proposal from Sir Samuel Waring (of Waring & Gillows and a major shareholder in Walton Motors) to take over the manufacture and sales of the ABC light car through Gillet Stephens. A further meeting in mid-June with Metts and Gillet resulted in an agreement for Gillet Stephens & Co to proceed with the manufacture of 400 light cars to drawings and specifications provided. However by late September the formalities had not been concluded, so Captain Charteris then tried to interest the Aircraft Manufacturing Company (makers of Airco and DeHaviland aircraft) who suggested that they might be interested subject to an order for a minimum of 4,000 cars. A further consideration was to extend the ABC factory by going to the public for funding, whilst the MD was also going to France to pursue any possibility of the cars being made by the French Gnome et Rhone company, who by this time were setting up production of the post-war ABC 398cc motorcycle in parallel with production in the UK by the Sopwith Aviation Company Ltd.
A prototype car was road tested during May 1919 with cushion covered soap box and not surprisingly without the weight of the coachwork, performed briskly. This had a transversely mounted 1223cc flat twin air-cooled engine (91.5 x 91.5mm) with machined steel cylinders, overhead valves operating in cast iron hemispherical heads and making liberal use of roller and ball bearings as on previous ABC engines. Originality was frequently Bradhsaw's strong point and the separate four-speed gearbox was not only unusual in light cars but also had the distinction of using a vertical gate with all gear selection being either forwards or backwards. A prop shaft within a torque tube transmitted power to the back axle via a bevel pinion and crown wheel in a deceptively heavy looking rear axle, although the cones either side of the central aluminium portion were made of thin section rolled light steel. They were riveted in position to malleable iron brake brackets at the outer ends and to flanges on the inner end which housed the main bearings. The chassis frame was channel section but tapered outwards towards the rear end, with a tubular front cross member and channel cross members supporting the sub frame on which the engine and gearbox were mounted. Quarter elliptic springs were used all round, the front ones being rigidly fixed to the front axle and the rear ones running on rollers fixed to the back axle. Artillery wheels were fitted with 700 x 85mm tyres. The frontal appearance looked quite conventional, but the 'radiator' was a dummy and the filler cap lead to the cylindrical petrol tank fixed above the engine, this leading on a number of occasions to garage attendants filling the tank with water. There was also a six-bladed metal fan behind the radiator and this sometimes parted company and punctured the tank above causing a conflagration that ended the usefulness of a few cars.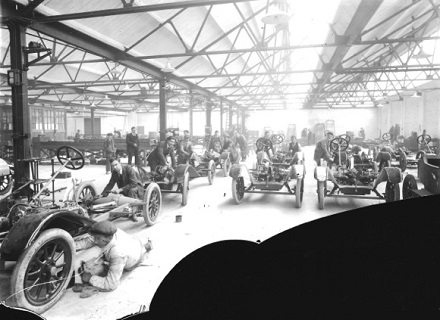 Chassis assembly mid-1921, unfortunately a broken plate, but not missing a great deal. (When I visited the old Esher Road Factory in 1968/9 was directed to someone who had been there during car production and who had kept these glass plates in his work station drawer. He promptly got them out and placed them on his stool, and whilst chatting to me lent on the pile of plates cracking several!).
A second prototype was to have been exhibited at the 1919 Olympia Show, but Autocar reported that it was unfortunate that the only example of a finished car to be shown was seriously damaged in transit, leaving only a chassis for potential customers to ponder. This had a longer wheelbase and overall length, decreased track, and a single plate Ferodo clutch instead of cone, whilst tyre size was now given as 710 x 90mm. Optional body colours would be buff, blue or grey with black chassis and mudguards, and a price was given for the 2-seater of £295, with a dickey seat as an optional extra.
In the middle of December 1919 in relation to the proposed new enlarged company, Granville Bradshaw stipulated that he should receive 1/3rd of the purchase price payable to the vendors from the sale, a proposal the MD considered unreasonable, and thus Bradshaw resigned. It was suggested that perhaps he could be persuaded to continue as consulting engineer and designer at a fee of £1,000 per year for two years, but whilst he continued to see through the finalisation of drawings and specifications Bradshaw's mind was already made up, regarding the situation as likely to introduce too many new people telling him what to do, when they had little real design experience themselves, although he seems to have stayed on until about March 1920.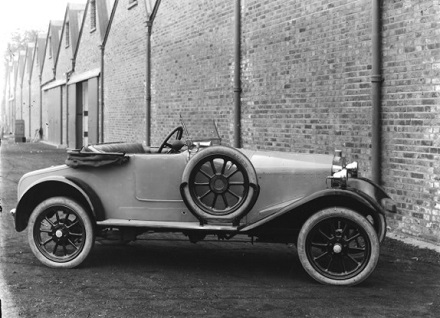 The ABC Regent, picture taken alongside the factory in early 1921.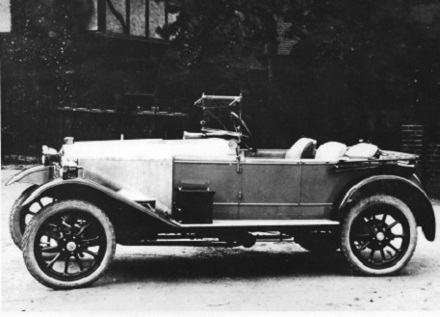 A 1921 cloverleaf three-seater, possibly the type offered by the British Motor Trading Corporation, showing the battery box mounted further forwards, a door and access to the rear between the two front seats.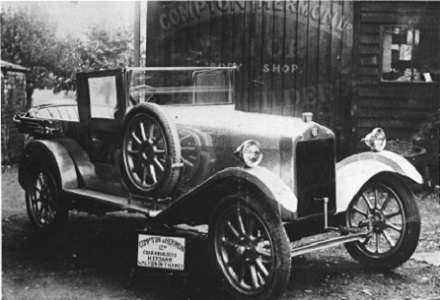 Another photo showing a special four-seater by Compton & Hermon, probably to be sold via George England the local ABC agent, also showing the thumb-turned aluminium finish and artillery wheels. Most likely taken in 1921 as by 1922 the coach works had become Compton's Motor Body Builders. Compton's later moved to Kingston, and then New Malden.
In the latter part of January and into February 1920 Sir Samuel Waring put forward a proposal to amalgamate ABC with various other of his companies, whilst Sir Davison Dalziel proposed an amalgamation with Gilbert Campling. Tom Dennis, the Company Secretary, was left to negotiate terms of various proposals and to obtain from an approved agency a prospectus for an increase in capital of up to £300,000.
By the end of February 1920 another proposal was being considered in which Harper Bean Ltd., itself inaugurated in November 1919 with a £6million capital, would supply sufficient materials to produce 5,000 cars per year and that they would guarantee the sales and marketing of the car through the British Motor Trading Corporation assuring a profit on each car of £20. The idea of Harper Bean was to emulate General Motors in America, which grouped several suppliers of component parts and manufacturing companies under one umbrella organisation in order to benefit from cheaper supplies by ordering in volume. Apart from Bean this also embraced Swift and Vulcan as well as the Regent Carriage Co., Gallay Radiators, and shares in Hadfields the Sheffield steel suppliers. H J Whitcomb (who formed Harper Bean Limited with Jack Bean and Charles Wardman of Vulcan in 1919) was to become Chairman.
On the 18th March 1920 the prospectus of ABC Motors (1920) Limited was signed (the old company to be wound up within the next month) and the following day an EGM was held at Hersham Lodge at which an agreement was signed between ABC Motors (1920), the British Motor Trading Corporation and Harper Bean. Interestingly enough Granville Bradshaw was a shareholder in the new company.
By early 1920 the price of the chassis had increased to £310, and £330 for the complete car including spare wheel, but oddly not tyres. Most of 1920 would seem to have been taken up in equipping the new works and producing a final product with announcements in the press every now and again on how soon it would be until cars were likely to be delivered, such as the announcement in Autocar on 17th July saying deliveries would commence the following month at the rate of six cars per week, reaching 40 cars per week by January 1921. Chassis numbers 1 – 30 were allocated for August, 31 – 85 for September, 86 – 186 for October, 187 – 300 for November, and 301 – 450 for December. An encouraging development was the appearance of S C H Davis driving the fourth prototype (PB 5551) in its competition debut in the London - Lands End Trial on 10th April, and gaining a gold medal. During 1920 it was estimated that orders for some 3,000 cars had been received, but many got fed up with waiting and cancelled orders, a fate unfortunately suffered by several would be players in the post-war rush to produce vehicles.

The first time most members of the public were able to see the car was at the White City Show in November 1920 at which a chassis, a standard 2-seater and a sporting model were shown. The standard car was now £415 and often called the Regent as early cars carried bodies by the Regent Carriage Company. The 'sporting' model was something of a misnomer, as there were no mechanical differences, just lower seating and no doors or dickey seat provided, leaving less timber framing used and hence a bit lighter construction. Slight variations to design now included the deletion of the crankcase air releases in favour of one larger air release on the magneto drive pinion casing; tappet adjustment was now on the rocking lever end of the pushrods; the size and shape of the inlet pipe altered; a joint introduced in the exhaust pipe so that the cylinders could be detached from the crank case more easily; the clutch enlarged in diameter with stronger springs, and a longer brake lever incorporated.
Production was slower than that published in Autocar, and chassis No.27 (with engine No.53) was first registered on 24th January 1921 although it does seem that a few cars would have been registered late in 1920. Numbers issued were not in a strict sequence, and engine numbers were generally somewhat higher than chassis numbers. In the early part of 1921 as the works were progressing and incorporating its own body and paint shops, the Regent nomenclature was dropped in favour of the in-house Surbiton model which looked pretty much the same. The Sporting model had the battery box moved along the running board to provide a step into the car and access to the boot was by moving the seat forward, eliminating the need for a boot lid or dickey seat. In March the price was reduced to 365 guineas for the Standard two seater and 330 guineas for the Sporting model, whilst the chassis was available for 295 guineas. A surprising number of chassis did have coachwork by a number of outside coachbuilders including Gordon Watney of Weybridge, Compton and Hermon (probably for George England, the local Hersham agents), and Morgan & Co of Leighton Buzzard who produced a cloverleaf three seater for the British Motor Trading Corporation in black and cream.
The company supported numerous trials of the period often with a team of five drivers comprising Vaughan Knight (Sales Director), Capt Charteris (Director), A H Jones (Chief Tester), and one or two invited drivers such as S C H Davis or Jack Falahee. In time, many other private owners also competed with considerable success up to about 1927 gathering cups, and gold, silver and bronze medals. Gordon England was one of the company's early customers, his father George running the local agency. He modified his car for racing at Brooklands over the period 1921-1923. Suffice it to say that the car competed in the up to 1500cc class, but was hampered by being only 1223cc, in the same way that the 398cc motorcycle gave away 100cc in its 500cc class. In its final year the car was fitted with a Bristol Cherub aero engine in order to compete within the 1100cc class in the 200-mile race, and came fourth driven by Stephen Bassett.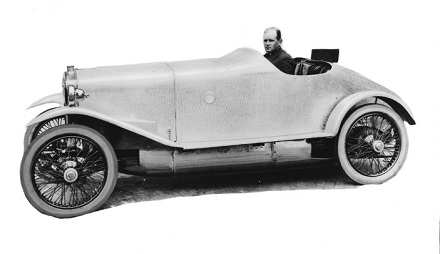 Gordon England's first attempt at a sporting body on his 200-Mile Race car. The coachwork was carried out by the local firm of Compton & Hermon and the aluminium is thumb turned. Wire wheels make the car far more attractive and slightly staggered seats can be seen, together with a fair sized under tray.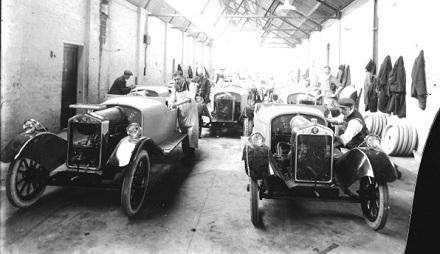 Assembly shop mid-1921. There doesn't seem to be signs of rubbing down or paint, and the car on the left has electrical wire protruding from the running board which will connect in due course to the battery box, itself forming the step into the passenger seat of the 'Sports' model. Note that these cars are fitted with artillery wheels, but that a stack of discs can be seen on the right hand side which would shortly become normal.
From March 1921 Sankey disc wheels became optional and soon standard instead of the artillery variety and in about May 1921 (Car No.203) a bevel pinion instead of a spur type of differential became standard in the back axle. A new Standard model was introduced in the latter part of the year looking similar to the Sporting model, but having side doors and dickey seat, whilst at the White City Show in November a parcel shelf was incorporated under the scuttle, carpets fitted instead of mats and a Smith's electric starter and dynamo offered as an optional extra (from Car No.400). Both styles now came with aluminium bonnets and grey coachwork. Something like 550-600 cars were sold that year with latterly just two models being offered, the Standard and the Sports, these incorporating dummy honeycomb in the bonnet extensions for the cooling of the cylinder heads rather than being left as voids.
Nineteen twenty two was a comparatively good year for sales with some 750-800 being sold, but since the anticipated output was 5000 cars per year, the Company was getting deeper and deeper in debt. This was reflected by the fact that J H Bean and H J Whitcombe resigned from the board in April 1921, Ernest Noel in December 1921, Maurice Yorke in April 1922, and in July 1922 Capt.Charteris, founder of the Company in 1910. There had been two entries by the Company in the Royal Scottish Automobile Club's Light Car Trial from 5th-10th June 1922, but these were scratched before the event. A receiver was appointed in November.
Little modification took place during the year which was hardly surprising other than to rectify minor quibbles that customers had, although a four seat tourer was available even though few are likely to have been made (the late Bill Boddy of Motor Sport had one of them as his first road transport). Production relied upon the number of engines being completed and this rose from two per week early in 1921, to eight per week by the latter part of 1922. The Company proposed a pay decrease in 1922 which the unions rejected, after which many workers were laid off. In 1923 short time came into being with two weeks on and one week off, leading to one week on and two weeks off. Few could survive on such a precarious living and the company was wound up in July of that year.
By December 1923, consent had been given to the registration of a new company, ABC Motors Ltd., with T A Dennis as Managing Director, who from 1915 had been the Secretary of the Company. Any stocks remaining were taken over, the new factory sold and all work reverted to the Old Esher Road factory across the way from which several more cars were assembled and sold at £160 for the Sports, £175 for the Standard, and £185 for the four-seater. The term 'Standard' also appears to have been dropped shortly afterwards in favour of a reversion to the 'Regent' name, which poses the question as to where these bodies were made. It is likely that a new batch of cast iron cylinders were made from about 1924 instead of the machined steel ones and these were also made in larger format for the new Supersports model introduced late in that year (91.5 x 96.1mm giving a capacity of 1326cc).
The new Supersports was fitted with a two-seater polished aluminium body with pointed tail, staggered seating and V-screen made by Compton & Hermon, the local coachbuilders. The engine had a larger crankshaft with double roller big-ends and the valve rocker mechanism was redesigned with larger bearing surfaces for the pushrods, both pushrods and rockers being enclosed to aid lubrication, somewhat on the lines of the Taylor Young valve conversion set on the ABC motorcycle. An oil tank mounted below the subframe supplied lubrication to twin adjustable sight feed indicators on the dashboard, with a recommendation to deliver 60 drops per minute to each cylinder. Helically cut timing wheels replaced straight cut type and twin Zenith triple diffuser carburettors were fitted. Each cylinder had its own silencer and exhaust pipe, finished off with about one foot of copper pipe, which gave a certain resounding ring when in use and not especially favoured by horses. Fifty of these larger engines were made. Some could have gone into standard cars and eight went for scrap after WW2, leaving a maximum of 42 built. Five of them appeared on the 1927 London – Lands End Trial organised by the Motor Cycling Club, perhaps the largest number ever seen together.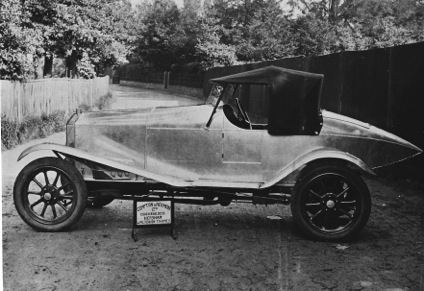 This Supersports body on an artillery wheeled chassis poses something of a conundrum insomuch that post-1921 most cars would have been fitted with disc wheels. It also shows the standard transverse silencer connecting the two exhaust pipes from each side of the engine. Note as well that the coach builders board is signed Compton & Hermon and not just Compton's, although an old board could have been used. However, it does seem that this could just be a sporting bodied standard car of c.1921, and setting the looks for the Supersports chassis that followed in 1924.
In all about 1500 ABC cars were built between late 1920 and 1927. Some previous references have given the terminating date of production as 1929, but this is thought to refer to the final dissolution of ABC Motors (1920) Limited as reported in the London Gazette of April 9th that year. About ten examples survive, half of which are outside the UK, whilst there are one or two much modified 'specials', some just incorporating ABC engines.
For both general use and for constant speed racing or even sprints, the ABC engine seemed reasonably robust, but what it was poor at was track racing where gear shifting was constantly required. Engines had a habit of suffering when sudden high revs were required when changing down gears, causing failure of con-rods or crankshafts. Several engines have failed in more modern 'specials' for just such reasons, which means that there are now few 'spare' engines about.
A note about the company's address in Hersham. When referring to the post-Brooklands site, the Company minutes refer only to the 'Hersham Works' with no reference to the road, whereas those that worked there referred to it as the 'Old Esher Road' factory. It is likely that a number of plot or property purchases after 1914 gave the old Hersham works access to Molesey Road which certainly in later years was the main entrance, whereas at the back of the property access led on to Mole Road, itself running into the Old Esher Road. The latter was often flooded and was by-passed in the 1960s by the New Esher Road. In March 1919 the minute books refer to £9000 for factory extensions which were presumably behind Hersham Lodge. These were no doubt enlarged when the Harper Bean deal went through. It would appear therefore that there was never any direct access from the ABC works to Old Esher Road. The 'new' factory was acquired by the Hackbridge Company, producers of electrical transformers and cables, who in 1923 became the Hackbridge Electric Construction Company. The Hewittic Electric Co.Ltd made rectifiers, and from 1924 shared the site with Hackbridge, who in 1947 became the Hackbridge & Hewittic Electric Co.Ltd. Hersham Lodge and its adjacent factories were demolished in 1978 and the site is now the offices and research facilities for Air Products.

By D. A. HALES