The edition of Motor Cycling of 29 July 1913 carried an article on 'An Interesting Douglas', which you'll find elsewhere on the site as an article. The original 1913 article promised a bright future for the A.B.C. engine as a proprietary fitment:
"It is now an open secret that several other manufacturers than the Douglas are intending to market a machine of this type in 1914."
Despite having a machine designed for a flat-twin engine, Douglas made it clear that they were sticking with their own engines for next year's models. So who did offer the A.B.C. engine in one of their catalogue models?
Step forward Elliston and Fell, trading as 'P.V. Motorcycles'. George Elliston and Sidney Fell were a Clapham cycle-maker and a Beckenham motor engineer who joined forces in Perry Vale, a road in Forest Hill, south-east London around 1910. They secured a patent, number 10,179/1910, for a rear springing system (a 'spring frame' in the parlance of the time), which was a feature of all of the bikes they made between 1910 and the closure of the company in 1924.
In common with many of the smaller manufacturers of the time, they bought in components such as forks, variable gears, and engines, offering a range of models according to available offerings from the proprietary engine-makers. Prior to WWI, the favoured make was Tottenham's J.A. Prestwich, and for the most part, the machines could be had with a J.A.P. vee-twin, from 430cc (3½ h.p.) up to a 988cc (8 h.p.) version.
However, the edition of The Motor Cycle of 4 December 1913 indicated a change of tack, thus: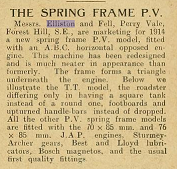 "Messrs Elliston and Fell, Perry Vale, Forest Hill, S.E. are marketing for 1914 a new spring frame P.V. model, fitted with an A.B.C. horizontal opposed engine. This machine has been redesigned and is much neater in appearance than formerly. The frame forms a triangle underneath the engine. ... we illustrate the T.T. model, the roadster differing only in having a square tank instead of a round one, footboards and upturned bars instead of dropped. All the other P.V. spring frame models are fitted with the 70 x 85 mm. and 76 x 85 mm. J.A.P. engines, Sturmey Archer gears, Best and Lloyd lubricators, Bosch magnetos, and the usual first-quality fittings."
It's interesting to note that they had clearly experimented with the engine prior to this December announcement – the mention of a re-design suggests that it might not have been entirely successful first-off. However, the 1914 catalogue carries not only an illustration of the machine to accompany the specification, but also a whole page showing four different views of the machine – these look to be the press shots that accompanied the announcement above. The catalogue also includes a picture of an A.B.C.-engined bike to illustrate the spring frame design and principles.
The catalogue also shows this to have been a rather 'deluxe' option – listed as the 'Model II', it retailed at 67 guineas for a hub-gear equipped version, and 57 guineas for a direct-drive single speeder – against £59 and £48 10s for the equivalent 500 cc J.A.P.-engined 'Model I'. In fact, the A.B.C.-engined machine cost a little more than the 654cc J.A.P.-engined 'Model III', which was priced at £67 10s (hub gear model) and £57 (single speed).
The model shown in the press, and also in the 1914 P.V. catalogue, bears the London-series registration LF 99. It was owned by a local rider, Graham Price, of Sydenham, who previously owned a P.V. with a 3½ h.p. J.A.P. engine. It's possible that he approached the works with a request to build him such a model, as was the case with the Douglas equipped with the A.B.C. engine.
He was a keen entrant in the various trials of the day, such as the London-to-Exeter, which he entered on his 'P.V.-A.B.C.'. He referenced this event, and the machine, in a letter to the 'Autocycle' magazine on 14 January 1914, on the topic of spring frames:
"... I recently rode my 'P.V.' A.B.C. through the Exeter trial (gaining a gold medal), and at the end of the run felt as fit as when I started, with – and please note this – a hard Brooks' racing saddle, which has practically no spring. I have found it quite unneccesary to use an elaborately designed and expensively made sprung saddle, the springing device on the 'P.V.' doing all that is required in that aspect and springing the whole machine as well as rider, consequently eliminating wear and tear of machine and tyres, back-wheel slip and side-slip. I may say that I have no interest in this machine financially, but take a keen interest in a good thing."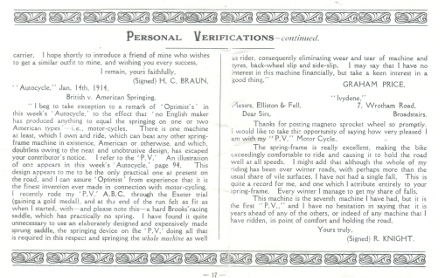 He was also entry secretary for the first 'Old Crocks Run' in 1914 – the fore-runner of today's Pioneer Run for veteran (pre-1915) motorcycles. By the middle of 1914 he had switched allegiance to BAT – two miles away in Penge – and formed part of a three-man team in that year's A.C.U. Six-Days Trial.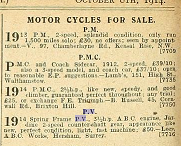 A small ad from The Motor Cycle of 6 October 1914 indicates that a version with a countershaft gearbox had been produced. The advert also demonstrates an intriguing link to the A.B.C. works:
"1914 Spring Frame P.V., 3½ h.p. A.B.C. engine, Jardine counter-shaft 2-speed gear, appearance like new, perfect condition, light, fast machine; £50 – Lees, A.B.C. Works, Hersham, Surrey."
It seems entirely possible that this was E.H. Lees, a regular Brooklands competitor, who is mentioned in Peter Hartley's 'Bikes at Brooklands in the Pioneer Years', and it's also difficult to wonder whether this machine didn't resemble Jack Emerson's machine prepared to take on the 500cc flying start mile and kilometre records – as seen at pages 60 and 61 of Gerry Belton's book 'All the Years at Brooklands', with its distinctive curved saddle tube.
As far as I know, the P.V.-A.B.C. was only offered for 1914. A small ad in July 1914 requesting additional frame-builders indicates an attempt by Elliston and Fell to expand which would be thwarted by WWI, and both men went on to serve in the Army Service Corps.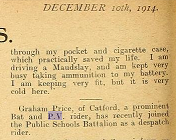 Graham Price joined up in late 1914 as a Despatch Rider, and subsequently transferred to the Royal Flying Corps, as an Observer.
He was shot down and killed on 9 March 1916, and the photo of him competing with his P.V.-A.B.C. was the inspiration for a posthumous portrait by a member of the Royal Academy. An obituary in the motorcycling press of the time reported his comments in a letter home to his parents:
"If I am killed, do not grieve for me, but feel proud that you had a son to give in the country's cause."

By Nick Smith